HMS Montrose on patrol in South Georgia and South Sandwich Islands
Wednesday, January 18th 2012 - 02:58 UTC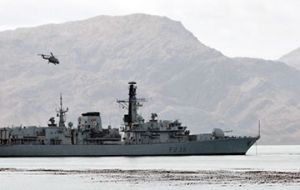 The Royal Navy Type 23 frigate HMS Montrose", with a crew of 185 made a several days patrol visit to South Georgia and South Sandwich Islands, GSSI, waters in December.
The ship is fulfilling the role of Atlantic Patrol Task (South) ship and had previously visited some of the other British South Atlantic Islands, reports the South Georgia Newsletter, December edition.
The vessel called in to Grytviken on December 16th, landing personnel for an afternoon to explore the area. Another team of explosive experts landed to dispose of recent ordnance finds in the area, including a two-inch mortar and a rifle grenade. Whilst dealing with the grenade the EOD spotted and dealt with another partially discharged rifle grenade in the same area on the lower slopes of Mt Hodges.
The ship sailed for the South Sandwich Islands the following day, patrolling down the remote island chain until prevented from going further south by ice conditions.
After the successful mission the vessel returned via South Georgia en-route to the Falkland Islands, calling in briefly to collect mail and allow a few more to get ashore before sailing to Mare Harbour (Falkland Islands) in time for Christmas.