Falklands vessels can re-flag and operate in Mercosur ports, says Hague
Friday, January 20th 2012 - 08:19 UTC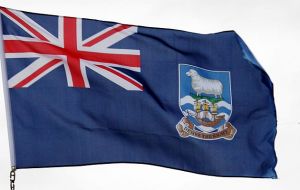 Ships from the Falkland Islands that are barred from ports in Argentina and other Mercosur trade bloc countries can re-flag as British ships at any time to avoid the ban, British Foreign Secretary William Hague told reporters in Rio de Janeiro on Thursday.
There is no legal barrier to ships registered in Stanley, Falkland Islands, from sailing under the British flag rather than the flag of the Falklands, a largely self-governing British Overseas Territory in the South Atlantic, Hague said.
Argentina claims sovereignty over the Falkland Islands. A military government invaded the Islands in 1982 only to be expelled after a two-month war with Britain. The defeat was followed by the collapse of the military government helping speed the return of democracy and civilian rule in Argentina.
Last month, Argentina convinced its partners in the Mercosur trade bloc - Brazil, Paraguay, Uruguay, as well as associate member Chile - to ban Falkland Islands-flagged vessels from entering their ports.
"It is clear that ships flying the British flag should have access to ports in South America as they would in any other part of the world" Hague said on a visit to Brazil.
Ships flying the British flag have reciprocal port entry rights under the United Nations Convention of the Law of the Sea that are also granted to Mercosur countries, he said.
The Falkland Islands' ensign has a British Union Jack on a blue field with the Falkland Islands coat of arms.
"Argentina has tried to increase tension (with this ban)," Hague said. "All they will get is increased tension."
When asked if the ability of Falkland Islands ships to re-flag as British ships made the ban meaningless, Hague nodded yes.
Hague discussed the Falklands issue in Brazil's capital of Brasilia on Wednesday but the Brazilian government said it backed Argentina in the sovereignty dispute and would apply the shipping ban.