Argentine industry requests postponement of the new imports scheme
Saturday, January 21st 2012 - 05:38 UTC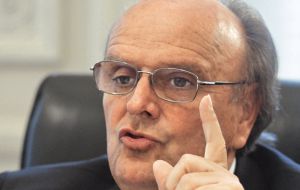 Argentine manufacturers have requested the administration of President Cristina Fernandez to delay the implementation of the new imports scheme which is scheduled to begin next February first fearing it could cause delays in the supply of non local inputs.
Argentine Industrial Union head José Ignacio de Mendiguren said on Friday he is "concerned" with the new advance imports sworn statements, DJAI, and requested AFIP, the tax revenue office, to postpone the February 1st starting day of the new regime.
"We are in early talks to see how the new measures work. We are concerned, especially about how the new regime will work. There are some imports that are directly related to production because they are supplies which aren't produced in the country."
De Mendiguren added that he sent a letter to Afip head Ricardo Etchegaray requesting "the analysis of certain aspects and the possibility of postponing the effective starting date" of the new regulations.
"We have lots of issues to clarify before the end of the month and this is a complex issue. I have also talked to Trade Secretary Guillermo Moreno and he eased our worries and explained the whole process will be automatic."
De Mendiguren added he hopes to gather more information in the next few days. But "I insist, we have to prioritize the regulation's predictability and to be certain on the reasons why the exports permits will be approved or not".
According to the new scheme once the sworn statements requesting authorization for imports, the government has fifteen days to decide whether it grants or not the green light for the operation.
On Thursday Afip chief Etchegaray stressed that the new regulations is part of the "fine-tuning" policies the Government is applying and a tool to prevent the world wide economic crisis from having a full impact on Argentina. "We are safeguarding out domestic market and Argentine jobs"
De Mendiguren once again referred to the mounting tension between Argentina and Brazil over the new import barriers set by the Government, and said that "the fact that Brazil is fearful about Argentina's regulations is strange, to say the very least".
Trade and Industry minister Fernando Pimentel said that in trade and economic terms Argentina is "a permanent problem". Regarding the latest battery of measures Pimentel said that Brazil will wait for their implementation and next assess the first results in March.
However the Sao Paulo media anticipated that Brazil is preparing counter measures in the event that Argentina's latest decisions have an impact on bilateral trade. Brazil is Argentina's main trade partner.