Caribbean Community recognizes Falklands' right to self determination
Monday, January 23rd 2012 - 18:27 UTC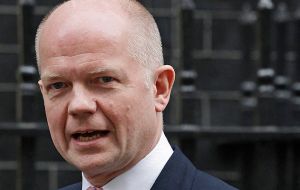 Ministers attending the Seventh Ministerial United Kingdom-Caribbean Forum have agreed an Action Plan, which recognises the right of self determination for the Falkland Islanders.
The meeting, held in Grenada, was held under the theme "Prosperity Towards Sustainable Growth" and was attended by the UK Government and members of the Caribbean Community organization (CARICOM).
Numerous Caribbean Heads of Government and Ministers attended the meeting, with the UK represented by the Foreign Secretary William Hague and Overseas Territories Minister Jeremy Browne as well as Home Office Minister James Brokenshire and Minister of State for International Development Alan Duncan.
The forum agreed an Action Plan containing agreements on a range of issues from climate change to sustainable development.
Of great significance to the Falkland Islands, the Forum agreed: "To support the principle and the right to self determination for all peoples, including the Falkland Islanders, recognising the historical importance of self-determination in the political development of the Caribbean, and its core status as an internationally agreed principle under the United Nations Charter"
Member of the Legislative Assembly Jan Cheek said: "We are delighted to have our rights recognized by our friends in the Caribbean. We have much in common with island states all around the world, and we have long maintained our right as a people to determine the future of our home and country. This basic right is what the Argentine Government is trying to deny us."
The Action Plan endorses the position of the Falkland Islands people, who have chosen to retain their status as a British Overseas Territory. The Argentine Government claim sovereignty of the Falkland Islands, and have adopted a policy of isolating the Falkland Islands from South America.