China admits "big distribution challenges" in the Year of the Dragon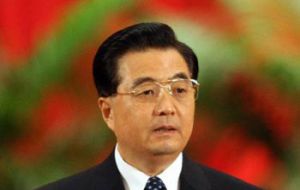 China will face "bigger challenges" in the Year of the Dragon its Prime Minister Wen Jiabao warned Saturday, as he pledged economic reforms to improve wealth distribution, state media reported.
"We are going to face bigger challenges in the New Year" Wen said in a meeting with top officials, ahead of Monday, the beginning of the Year of the Dragon, the most favourable and revered sign in the 12-year Chinese zodiac.
The prime minister said China had made a good start to the Twelfth Five-Year Plan (2011-2015) "at a time of an austere and complicated international economic situation".
The new year is set to be key politically, as President Hu Jintao ends his second term as party head and hands over to a successor, widely expected to be Vice President Xi Jinping, kicking off a once-in-a-decade leadership handover.
The new party head will take over Hu's presidency in March 2013, when Premier Wen Jiabao and his government will also step down. Wen said the main government objective was maintaining price stability alongside rapid economic development.
Last year, Beijing made some gains in the battle against inflation, as the rate went down from 6.55% in July to 4.1% in December. However, the gross domestic product growth of the world's second largest economy continued to fall: 10.4% in 2010 to 9.7% in the first quarter of 2011. In the second it was at 9.5%, to 9.1% in the third, 8.9% in the fourth.
The Prime Minister said China must change its development model to "give more importance to people's lifestyles, and let the population share the fruits of the reform", quoted by state media Xinhua.
Chinese growth is characterised by a very high rate of investment and a relatively low level of consumption, and Chinese leaders say they are dedicated to rebalancing the development model to make it less dependent on exports.
In 2011 however, investments continued to grow faster than sales, measured by household consumption, according to figures published this week by the National Bureau of Statistics.