US oil company makes 1.6bn dollars offer for Falklands' Rockhopper: shares soar
Monday, January 23rd 2012 - 17:19 UTC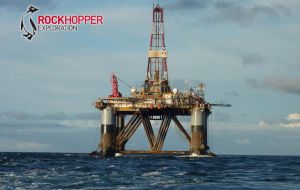 Rockhopper Exploration Plc shares surged in London trading following a report that Texas based Anadarko Petroleum Corp. is in talks with the only company to have made a commercial oil discovery off the Falkland Islands.
Rockhopper advanced in London to the highest since February last year. The shares have increased 44% in the past six months. Desire Petroleum Plc, which owns acreage next to Rockhopper, advanced as much as 7.6%.
The Sunday Times reported that Anadarko is in talks with Rockhopper that may lead to a takeover of the company. Anadarko executives last week met managers of the UK company according to the report.
Rockhopper Chairman Pierre Jungels said last month the company has a range of options for the Sea Lion prospect (a 500 million barrels field) and that it will open a data room to seek partners. The company needs about 2 billion dollars to develop the find off the Falkland Islands that Margaret Thatcher went to war following the Argentine invasion in 1982.
Rockhopper struck lucky at its first attempt and also made a second discovery.
It plans to start commercial production in 2016 when it hopes to develop the Sea Lion field with a giant oil tanker moored over it. The ship will be fitted with a drilling rig and have the capacity to store up to three million barrels of oil, which would be offloaded to other tankers.
According to Houston press reports Anadarko made a provisional offer to invest nearly 1.6 billion dollars in Rockhopper. Allegedly four Anadarko executives flew to Port Stanley recently to meet with the UK explorer, and one said that the provisional offer to invest in Rockhopper's Sea Lion discovery and develop it is on the table.
Six energy companies have approached Rockhopper's quest to bring in a partner by the end of March to develop its discovery, but Anadarko is by far the biggest.
The Sunday Times mentioned Houston-based Noble Energy Inc., Hess Corp and Murphy Oil USA Inc. are also interested, as well as UK firms Cairn Energy and Premier.
Anadarko was a minority owner in BP's Macondo well, which exploded spilling almost five million barrels of oil into the Gulf of Mexico and killing 11 workers. It agreed last year to pay BP four billion US dollars to settle claims over the disaster.
Rockhopper's discovery of the oil field has increased the tensions between the UK and Argentina, which has maintained its claim to the Falklands/Malvinas Islands since going to war over them in 1982.