Chile almost close to "full employment"; shortage of manpower in some sectors
Tuesday, January 31st 2012 - 17:39 UTC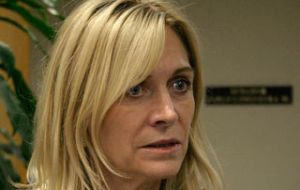 Chile's unemployment rate unexpectedly declined in the three months through December to 6.6% from 7.1% as the retail, mining and construction industries expanded, the National Statistics Institute said on Tuesday. The situation according to economists is close to "full employment".
Chile's labour market will continue to expand this year, Labour Minister Evelyn Matthei said in a Jan. 26 statement. At the same time, the government says it's ready to take steps that may include increased fiscal spending to protect jobs if the global economic downturn impacts Chile further.
"There is a shortage of workers in some areas like agriculture" said Matthei, a former senator who studied economics at the Pontifical Catholic University of Chile. "We've seen a lot of women seeking work, with many of them finding it".
Chile's economy probably expanded about 4% in December from the previous year, matching gains in November and beating October data, Cesar Guzman, deputy director of macroeconomic studies at investment services company Inversiones Security, wrote in a report.
The sustained economic growth helped push inflation to 4.4% in December, the fastest pace since April 09 and up from 3.9% in November.
"Activity continued moderating at the close of last year and may continue to do so for much of this year," Guzman wrote. "At the same time, the data continued to show evidence of a positive performance from sectors tied to internal demand measured over 12 months.
The December 2011 data showed that only 184,000 people (6.2%) in Santiago were unemployed, according to a study administered by the Microdata Center at the University of Chile.
The main reason for such impressive figures is the solid economic growth that the country experienced in 2011 – approximately 6.2% – which was the highest level of growth since 1997.
"The economy is growing so significantly that we are able to support a healthy labor market," declared David Bravo, an economist at the University of Chile.
In December, employment rose by 3.8%. Among the strongest sectors were construction, which rose 11.7%, and industry, which rose 6.1%. However, those sectors are among those that still have the highest rate of unemployment as well: construction at 7.1%, commerce at 6.8%, and industry at 5.6%.
For economists, the December 6.2% indicated a level of "full employment", however, it is too early to tell if this success will last in the long run.
"Full employment is not zero unemployment, but a figure that any country should be able to sustain in its labor market, without accelerating inflation and in a way that is realistic for the economy. In Chile, the lowest rates we have been able to achieve are around 6%, but by March we will be able to confirm this and by July we will know if this is a permanent trend," said Bravo.
He went on to say that, "we talk about full employment with a figure of 6%, because the Chilean economy cannot reduce this number without causing other macroeconomic problems."
Victor Valenzuela, from Andrés Bello University, believes that Chile can maintain the current low level of unemployment for the long-term if it makes some structural changes to the labor market.
"Currently this figure is in the range of full employment, but it must be measured in the long run," said Valenzuela.