Falklands/Malvinas: One can only hope for a new realistic perspective
Thursday, February 2nd 2012 - 19:48 UTC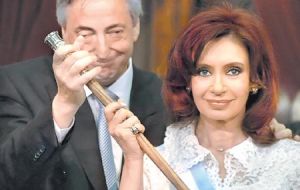 This is the seventh of a series of extended political articles written exclusively for the Penguin News web site by Deputy Editor John Fowler. John is a former Superintendent of Education and a former Manager of the Falkland Islands Tourist Board.
Some years ago, around 1996 or 1997, I was invited to dine in an apartment in the Balavanera district of Buenos Aires. The apartment, which belonged to a friend of a friend, was just around the corner from where a car bomb had destroyed a Jewish Community Centre not long before. Eighty-five people were killed in this atrocity and another three hundred wounded. Because of the structural damage done to surrounding buildings, our hostess, one of the many psychologists in Buenos Aires, had been able to buy her apartment for a very reasonable price.
We were an oddly-assorted bunch. If I remember correctly, apart from myself and the English journalist with whom I was staying, there was another Englishman who had never visited the Falklands, but had some family connection here. He, I believe, was just about to marry an Argentine girl who had visited the Islands, as had another young Argentine present. At some point we were joined by four older Argentines who hadn't. Also present were our hostess's two sons, both students in their late teens.
Inevitably at some point after we had eaten, the conversation turned to the Malvinas/Falklands sovereignty question and I found myself with the aid of my then very limited Spanish and my English friend, having to defend the Islanders' position.
Perhaps out of politeness, the younger participants in the discussion were calm and reasonable, but the four older Argentines were very adamant that the Malvinas were theirs and somewhat aggressive in their defence of the absolute rightness of their country's sovereignty claim. My urging that they should forget 1833 and the history on which we might never agree and instead think calmly and dispassionately about the rights of the people who actually lived on the Islands was falling on deaf ears.
The discussion was going nowhere and tempers were beginning to get somewhat frayed, when someone asked the opinion of one of our hostess's sons, who up to that point had not said a word.
Lifting his head from a book he was reading, this young man said that our discussion bored him to tears and he couldn't understand why people of our age spent so much time arguing about an irrelevant bunch of rocks that nobody wanted to live on. We were, he said, ignoring the really important things that were going on around us. Argentina was at that time facing very real problems of unemployment, poverty, crime, racism, injustice and corruption, none of which would be solved by the possession of the Malvinas.
This response, which brought a refreshing sense of perspective to the whole sovereignty issue both surprised and encouraged me. Assuming that such an attitude would be common among a younger and more savvy generation, less inclined to accept the tired old shibboleths of their parents, I came back to the Falklands convinced that all we had to do was wait. Soon this young man and his peers would be of voting age and then, if Argentina's burgeoning democracy was allowed full expression, the reclamation of the Malvinas would soon cease to be a vote winner. Instead it would assume its true status as an irrelevant and rather weird historical obsession, the pursuit of which had already cost far too many young lives.
While I was still waiting optimistically for this happy day to dawn, "The Penguins" as the Kirchners were called by some unkind sectors of the Argentine press, came to power. On the Falklands/Malvinas issue time stood still until the hands of the clock began to turn again......backwards.
Having been assured by some Argentine acquaintances whose opinions I valued that Nestor Kirchner's appointment as President would herald a turning point away from the corruption of Argentina's political past and bring in a new era of reasonableness and justice, I was shocked and hugely disappointed when he and his wife, in turn, gave the 'recovery' of the Falklands the status of the search for the Holy Grail.
Coming as they do from a city, San Julian, and a province of Argentina where there are many families descended from immigrants from the Falklands, I had hoped that the Kirchners might see beyond the myths surrounding 'Las Malvinas' and view the situation of the actual inhabitants of the Falkland Islands with some understanding and sympathy. I was mistaken.
Now, although all sorts of factors such as the 30th anniversary of the war, oil exploration and even the arrival in the islands on duty of HRH Prince William, have heated up the atmosphere to an extent that one can hardly walk down the street in Stanley without bumping into TV crews, a recent article in The Guardian has encouraged the emergence of a little optimism.
The writer of the article cites on-line disagreements appearing on social networks, which "reflect a noticeable recent shift from formerly unified public opinion on the issue of Malvinas" and quotes a 2010 opinion poll which seemed to show that despite the recent outburst of flag burning and chanting outside the British Embassy in Buenos Aires, 45% of the country's population have "little or no interest in the Malvinas question."
Even more encouraging, the author of an article in the leftist daily Página 12, Gustavo Arballo, a 36-year-old law professor at the University of La Pampa, is quoted by The Guardian as writing, "We have to move away from the old sloganeering; we're a nation of 40 million against islands with only a couple of thousand inhabitants. That's like an 18-wheeler bearing down on a bicycle."
The Professor's image illustrates precisely both the danger of the present situation and its absurdity, but the fact that he has shared it publicly gives me hope that a more realistic, more humane and altogether less hysterical perspective on the 'Malvinas issue' might be about to emerge to justify the optimism I felt all those years ago after dinner in Buenos Aires.
One can only hope that during this thirtieth anniversary of a war, which began with an invasion that most Argentines now would like to disown as an act of lunatic folly, the emergence of a new realistic perspective will help smother any tendency to further conflict in the South Atlantic.
If we can manage to ignore the hype generated by politicians and the media, we can instead engage with mutual respect in whatever personal, private or public commemorations of past heroism, loss, grief and pain may seem appropriate. Then, with the grieving over, maybe we will be free to turn our gaze firmly to the future.