Chavez supports Russia/China veto on UN Syrian resolution as "very positive"
Monday, February 6th 2012 - 06:51 UTC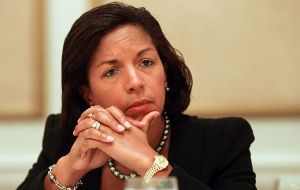 While Western and Arab countries responded with outrage after Russia and China vetoed a UN Security Council resolution that would have urged Syrian President Bashar al-Assad to give up power, Venezuelan president Hugo Chavez considered the veto as "very positive".
The US ambassador to the United Nations said she was "disgusted" by the vote, which came a day after activists say Syrian forces bombarded the city of Homs, killing more than 200 people in the worst night of bloodshed of the 11-month uprising.
"Any further bloodshed that flows will be on their hands," Ambassador Susan Rice said after the Russian-Chinese veto.
"We think it is very positive. Together with (Bolivia's) Evo Morales we support the veto", said Chavez addressing the ALBA (Bolivarian Alternative for the Peoples of America) summit which he hosted in Caracas
All 13 other members of the Security Council voted to back the resolution, which would have "fully supported" an Arab League plan under which Assad should cede powers to a deputy, withdraw troops from towns and begin a transition to democracy.
Russia said the resolution was biased and would promote "regime change." Syria is Moscow's rare ally in the Middle East, home to a Russian naval base and a customer for its arms.
The Syrian National Council, which represents major opposition groups, said it holds Moscow and Beijing "responsible for the escalating acts of killing and genocide; it considers this an irresponsible step that is tantamount to a license to kill with impunity."
The Security Council's sole Arab member, Morocco, voiced "great regret and disappointment" at the veto. Ambassador Mohammed Loulichki and said the Arabs had no intention of abandoning their plan.
Syrian UN envoy Bashar Ja'afari criticized the resolution and its sponsors, which included Saudi Arabia and seven other Arab states, saying nations "that prevent women from attending a soccer match" had no right to preach democracy to Syria.
He also denied that Syrian forces killed hundreds of civilians in Homs, saying that "no sensible person" would launch such an attack the night before the Security Council was set to discuss his country.
In Syria on Sunday state television showed live footage of Assad praying with Sunni Muslim clerics and listening to the recitation of the Koran in a Damascus mosque to mark the birthday of the Prophet Mohammad.
Much of the opposition to Assad is rooted in the Sunni majority, many of whose members resent the wide influence of members of Assad's Alawite minority sect.
President Chavez linked the current situation in Syria with recent events in Libya.
"The madness of US imperialism is behind all this: they destroyed Libya during the NATO campaign in 2011 by supporting the terrorists who were given arms to question the regime of Muamar Gaddafi, and now the are going against Syria, they threaten Iran and also want us, the ALBA countries out of the map", underlined Chavez.