Malvinas dispute anticipates visits of Cristina Fernandez and Hague to Chile
Tuesday, February 7th 2012 - 00:03 UTC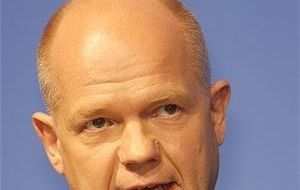 British Foreign Secretary William Hague and Argentine president Cristina Fernandez are expected to visit Chile in the near future as pressure mounts on the conservative government of President Sebastian Piñera because of the ongoing UK/Argentina diplomatic dispute over the Faklands/Malvinas issue.
"We received a notification from the UK on the possible visit of Foreign Secretary William Hague to our country. This follows the confirmation from Argentina that President Cristina Fernandez will be coming to Chile although no date has been yet established", said Monday afternoon Executive branch Secretary Andres Chadwick.
The top official immediately recalled that the position of Chile and the Piñera government regarding the Malvinas dispute is plain and clear, "we support Argentina's pretension over the Malvinas sovereignty but this should not, as it was publicly stated by a Foreign Affairs ministry release earlier today, in anyway distance us or create complex situations to our excellent relations with the UK".
Regarding the date for the Argentine president visit, Chadwick said that the Chilean government "has no information so far, as you know in diplomatic policy confirmations take some time, but we are waiting that the president can come and resume the visit that is pending because of her health condition in the month of January". However diplomatic sources speculate the visit could take place at the end of the month.
Asked specifically about the possibility the Argentine government decides to suspend the air link from Punta Arenas to MPA in the Falklands, Chadwick said that "these are situations of a particular condition which will be seen during current discussions at Foreign Affairs ministry level with Argentina, but obviously this is not a point that generates an obstacle to what is the Chilean State position in its relations with Argentina and the reaffirmation of our support to their sovereign interests".
Chadwick said he was not aware of a meeting allegedly between Lan Chile top executives with President Sebastian Pîñera and the Foreign Affairs minister Alfredo Moreno to address the air link with the Falklands.
Meanwhile the Argentine ambassador in Santiago Gines Gonzalez praised with his twitter Chile's support for Argentina's sovereignty claim of the Falklands/Malvinas.