Turn on your 'sepoy' detector and weed out the 'anti-Malvinas traitors'
Wednesday, February 8th 2012 - 23:38 UTC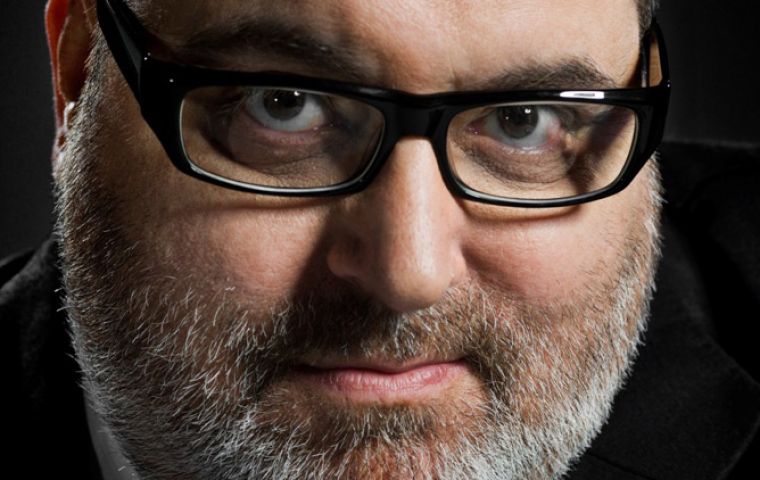 Jorge Lanata is one of Argentina's most famous and fierce journalists, feared by politicians and union leaders, famous for uncovering corruption and confronting the sacred cows of the country's establishment. This week he made some controversial comments about the Malvinas Islands which rocked the whole country.
Lanata already in the hate list of the Cristina Fernandez administration thus climbed to the condition of 'traitor' and 'sepoy' in its Spanish version, "soldier at the pay of a foreign power", in other words 'a paid traitor of the fatherland'
His sin, plus the fact of having made a documentary on the Falklands, a few years ago titled 'So near, so far' was an interview with the British media where he openly expressed his common sense.
"There is nothing Argentine about the Islands. The people eat fish and chips, they have dinner at 6pm; they are British. The only thing that is remotely Argentine is maybe the landscape that resembles barren Patagonia and the thousands of still active landmines that the Argentine forces left behind."
"Argentina's policy towards the Malvinas is insane, erratic, senseless," said Lanata and blocking the ports is more of the same madness"
"Argentina needs to integrate the Islands, not isolate them. We have to face up to the fact that we lost the war. Malvinas is not part of Argentina; it is part of our imagination. We're so blinded by years of rhetoric that we can't see reality".
Finally Lanata believes that the revival of the sovereignty claim is a smokescreen for the belt-tightening the government of Cristina Fernandez has to enforce after almost nine years of uninterrupted growth.
"It's no coincidence, this is the first time in history that a Peronist government has had to put austerity measures in place – they don't know how to do it".
The barrage of criticisms since from the official "Goebbels" media (as he calls it) and even a subtle reference to him during the speech of Cristina Fernandez Tuesday night, have not ceased but Lanata has not kept quiet and from his weekly column in Perfil expanded his thoughts on how to turn the UK Falklands into Argentine Malvinas, plus the suggestion of 'a sepoy detector'.
He begins by recalling that under President Alfonsin he was labeled 'communist and terrorist', under President Menem, 'drug dealer, drug dependent and faggot'; President De la Rua accused him of mercenary and sponsoring a military coup and finally the government of Him and Her (Nestor and Cristina Kirchner) call him 'sepoy' and 'traitor'.
Lanata argues that the way to 'Argentinize' the Falklands is to integrate them, not isolate them; barring Falklands vessels is stupid and minor: it takes ten minutes to change to convenience flag and keep fishing. What is needed is to send Argentine doctors to work in their hospitals, Islanders on scholarships to study in Rio Gallegos; temporary workers on both sides; building true links and not rhetoric promises in international bodies that are useless".
Finally after going over the accusations from the official media, Lanata proposed creating a 'sepoy detector' in Argentina and enumerates, in his view, some cases easily detected.
Only a third of Argentina's main corporations are Argentine (176) which means the trans-nationalization of the Argentine economy started in 1990 continues.
Since the 2010 meeting with Her (CFK) Barrick Gold has been working with the support of the Argentine government in the development of open mining in the glacier areas of the provinces of San Juan and La Rioja.
In the province of Catamarca protestors against foreign mining companies were sentenced with strict Anti terrorist legislation as part of the agreement on protecting foreign investments.
In 2009 Argentina condemned a coup in Honduras and committed support for the ousted president Manuel Zelaya. Now Hector Timerman supports his successor Porfirio Lobo Sosa born out of questionable elections and in spite of notorious abuses of human rights.
Economic groups form Canada, US, Australia and the UK have taken control of Argentina's lithium resources considered the "petroleum of the future" because of its multiple applications. These corporations have invested 100 million dollars in exploration but have licences over a potential 260 billion dollars in the rare mineral. He then enumerates the deposits and foreign corporations involved.
Hake is not only over-fished, it is becoming an endangered species. Asian vessels are committing depredation of the resource and of squid. Of 95.000 fishing vessels registered in the world, 210 are Argentine, 40,000 Chinese and any number between 2.000 and 4.000 could be operating in the South Atlantic, given the "non existent or inefficient controls" from Argentina.
In Tierra del Fuego a Chinese company will set up a fertilizer plant which includes supply of natural gas at 1.80 dollars per million BTU, while the international price is about 5 dollars. Residents collected 30.000 signatures to have the contract reviewed but were ignored.
Finally, "President Cristina Fernandez is not only a friend of mine but of the US" said Barack Obama last November addressing the Argentine leader who looked more "like a twinkling ferry or dazzled Snow-white".
"We can't ignore the leadership of the US at global level" replied a gracious Cristina.
So, Lanata recommends, turn on your 'sepoy detector' and check the red Light.