Red Ensign vessel unloads LNG in Argentina
Wednesday, February 15th 2012 - 05:37 UTC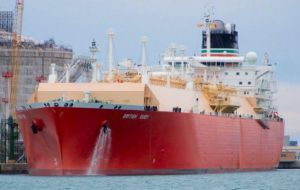 In the midst of the diplomatic escalation between Argentina and the UK over the Malvinas dispute and the coming 30th anniversary of the Falklands conflict, a red ensign Liquefied Natural Gas Carrier (LNGC) docked in Argentina.
The 84.000 tons double hull vessel will remain a full day berthed next to Express, an YPF vessel which re-gasifies liquid gas to supply Argentine industry and consumers.
British Ruby belongs to BP and flies the Isle of Man flag while the local re-gasification plant is managed by YPF. The LNG cargo originated in Trinidad Tobago.
According to Ingeniero White port officials this is the third of five shipments awarded to BP last December following an international tender. Since Argentina began importing natural gas in great volumes four years ago, BP and Japan's Marubeni have been awarded contracts.
Both companies thus join a list of other suppliers, Repsol-YPF, Excelerate, Morgan Stanley and Gas Natural. Following the first round of 55 shipments for 2012, Argentina invited tenders for a second round but the operation was frustrated "given the high prices", according to Argentine ministry sources.
However industry sources said the fact that the bills must be paid cash and in dollars, and demand this season is expected to be 20% higher, the new scenario has become a problem for dollar-tight Argentina
On Monday the Argentine Confederation of Transport Workers, CATT announced a boycott against all those "English vessels" that call in any port of the country to protest the UK "militaristic pretensions" in the Malvinas Islands and South Atlantic.
"As of today we have decided to boycott any vessel with the English flag, with the invented Falklands' flag or registered under any of the convenience flags from the English pirates (Bermuda, Cayman Islands, Gibraltar, Panama, Malta, etc.)" said CATT in a communiqué.