South Georgia and South Sandwich Islands announce Marine Protected Area
Monday, February 27th 2012 - 17:25 UTC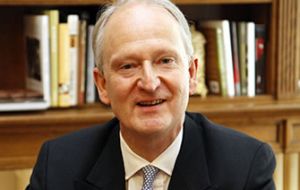 UK Foreign Office Minister Henry Bellingham has welcomed the declaration of a Marine Protected Area (MPA) around the UK Overseas Territory of South Georgia & South Sandwich Islands.
The MPA, announced on Monday, joins over two hundred already in existence worldwide. It covers an area of over one million square kilometres (equivalent to four times the terrestrial area of the United Kingdom) of the Southern Ocean, and includes over 20,000 square kilometres of no-fishing zones.
The Foreign Office Minister said "the declaration of an MPA around South Georgia & South Sandwich Islands clearly demonstrates the UK's effective environmental stewardship of this unique and remote part of the world.
"I am delighted that the UK has been able to demonstrate further evidence of our ongoing commitment to marine conservation and protection of the globally important biodiversity of our Overseas Territories."
Today's MPA draws together a range of new and existing policies to help further protect the incredibly rich biodiversity of the islands, which has some of the most important and productive fish spawning grounds in the Southern Ocean.
The area is also home to seven species of globally threatened seabirds, including the wandering albatross, and so is of great international importance. Protecting these populations is now more important than ever.
South Georgia's wildlife has recently been highlighted in the BBC's 'Frozen Planet' series.
On hearing of today's announcement Sir David Attenborough, who presents the documentary series, said: "I am delighted to hear of the decision to create one of the world's largest marine reserves, which will help protect the unique and precious wildlife of South Georgia and Antarctica. This is extremely timely given the dramatic change that the polar regions are currently undergoing."