CFK confirms Argentina will attend London Olympics "with our flag up high"
Tuesday, February 28th 2012 - 05:14 UTC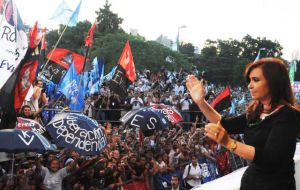 President Cristina Fernández rejected the possibility that a delegation of Argentine sportsmen may not fly to London to attend the 2012 Olympics as part of an Argentine boycott in response to the United Kingdom's refusal to discuss the Malvinas Islands sovereignty.
"We will go to the Olympics with our flag up high," she assured as she addressed the Malvinas issue in a speech Monday evening in Rosario, Santa Fe thus watering down strong internal pressure for an Olympics boycott.
She recalled that "there are still sixteen colonial enclaves in the world. One of them is right here in our country, in our Malvinas Islands". This is a shameful condition for the world precisely "when we are celebrating 200 years of our flag".
"That is why remembering the Malvinas here and ratifying this regional and global cause once more is not only just about territory or history. It is also about the defence of our natural resources," she explained.
The Argentine president also recalled the Malvinas war fallen and veterans and remembered that only a few years ago she asked former Santa Fe governor Hermes Binner why the Monument to the Flag at its cusp was railed and out of bounds; the reply was shocking: because many veterans used it to commit suicide by plunging from the pinnacle.
"We honour each and all of those teenagers that went to the Islands without any military instruction, proper clothing or food to the ultimate sacrifice", underlined Cristina Fernandez.