Buenos Aires train crashed against a 'wall' because station bumpers were 'not operational'
Friday, March 2nd 2012 - 05:52 UTC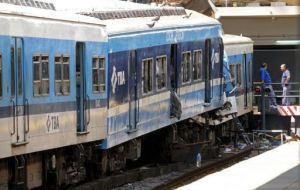 The investigation into the causes of the train crash in a main terminal in Buenos Aires which killed 51 people and injured over 700 has surfaced other technical flaws confirming the serious deterioration of the system, according to a report from the Transport Regulation National Commission, CNRT.
Excerpts from the CNRT report published by La Nacion indicate that the hydraulic bumpers at the Once station which should have helped to absorb part of the impact when the train crashed in were not operational. The bumpers thus acted "as a static impediment to the advance of the train", that is like running into a wall.
The accident took place 22 February in a commuter train from the Sarmiento line with over 1.500 passengers which crashed into the Once terminal, one of the most important of Buenos Aires.
"If the hydraulic bumper had been operational and working, the impact of the train advancing at 20 kilometres per hour would have been lesser and maybe the tragedy would not have occurred. In the condition the hydraulic bumpers were it was like running head on to a wall", said Horacio Caminos, spokesperson for the rail-workers Fraternity union.
The upkeep and maintenance of the rails, the trains rests on the company which has the concession, Trenes de Buenos Aires, TBA, which the Argentine government intervened this week in the midst of a barrage of criticism to the "Executive's negligence".
The conclusions of the report were confirmed by the engineer operating the train who allegedly declared in court blaming the brakes for failing, after he repeatedly warned they were faulty. The engineer told police he reported brake problems to his supervisors but that he was ordered to continue the trip that ended in the third worst rail accident in Argentine history.
Apparently according to judicial sources the engineer declared that "at each station he advised the dispatcher by radio that he had problems with the brakes, but he was told to keep going".
Relatives and friends of the victims have requested a full and quick investigation into the accident and have criticized members of the cabinet particularly Transport Secretary Juan Pablo Schiavi, who was hospitalized and underwent heart surgery.