EU objectives of fisheries policy are not negotiable, warns Damanaki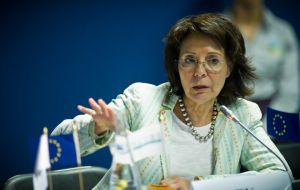 Members of the 27 Member States of the European Union (EU) were warned by EU Commissioner for Fisheries, Maria Damanaki, that she is not willing to hand over any of the objectives in the reform of the Common Fisheries Policy (CFP), which is currently being negotiated.
The Fisheries Committee of the Parliament asked the European official and representatives of parliaments to decide on the drastic changes proposed by Brussels to regulate the fisheries policy.
Many MEPs asked the Commission more flexibility in the implementation of measures, including postponing the date for achieving the "maximum sustainable yield" for fisheries, which the European Commission (EC) aims to achieve in 2015.
"What we need is a binding approach. We can not shirk our responsibility and relegate political goals to the future", said Damanaki.
For the European Commissioner, only the mandatory approaches work. As an example, she mentioned the case of anchovy in the Bay of Biscay, where recovery was possible only after the fishing closure in the area.
Damanaki also stressed that there is general agreement between the parliaments on the need of fisheries reform based on a more sustainable approach.
For his part, Spanish MP Joaquin Garcia Diez said it is necessary to implement measures to prevent fishermen from third countries to sell products to the EU, which European sailors are not allowed to.
Meanwhile, Senator Jose Luis Torres Colomer reminded that in Papua New Guinea rules of origin have been derogated and the "fishing is out of control."
In addition, he asked the European leaders how it is possible to ensure fair competition of products from third countries.
Meanwhile, the environmental organization World Wildlife Fund (WWF) presented to the European Parliament the first 100.000 signatures from citizens across the EU for the CFP reform to ensure sustainability of resources.
These signatures were obtained in the framework of the campaign 'More fish, more life".
"The participation and full support of the citizenry is key for decision makers in the EU to be aware of their great responsibility in the sustainable management of fisheries resources," said Juan Carlos del Olmo, General Secretary of WWF. "In fact, the future of the oceans and fisheries in Europe is in your hands".(FIS/MP).-