Falklands "opening" ceremony to celebrate clearance of mine-fields left by Argentina
Friday, March 2nd 2012 - 07:26 UTC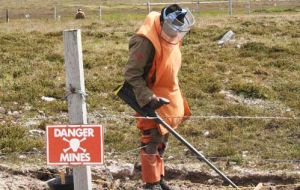 Next March 26 the Falkland Islands will be holding an 'opening' ceremony to celebrate the release of another 3.5 square kilometres which have been cleared from mines and other explosives planted by Argentine forces during the 1982 invasion.
"Land clearance and de-mining company BACTEC has made excellent progress due to a combination of good weather and sheer hard work" said the Falklands Demining Project Office, (DPO) Program Manager Robin Swanson.
All minefields have now been fenced and all the remaining areas agreed within the contract to search have also been completed three weeks ahead of schedule. "However, BACTEC has agreed to clear additional land to the south of the contract area towards the shoreline which, weather permitting, will release land around Mile Pond, Round Pond and an east facing beach."
Members of the Falklands' Legislative Assembly and the Suspect Hazardous Area Land Release Committee (SHALARC) have been briefed and have accepted the proposed changes to the work which should add an additional square kilometre of land released by the end of the project bringing the total to 3.5 square kilometres.
When compared to the overall area of land currently restricted from social and other use by minefield fences, this will represent a reduction of some 15% by the end of the project.
Andy Frizzell, Project Manager of BACTEC, said: "We are absolutely delighted with our progress to date and just hope that the weather stays on our side so that we can clear that very interesting area around the ponds and down towards the sea."
The project has not been without its challenges. BACTEC encountered nine fortified former Argentine positions which required slow and deliberate clearance of trenches, some of which were full of water and had to be emptied.
A large number of un-fired ordnance was located in this area including M67 90 mm High Explosive Anti-Tank (HEAT) ammunition, Air to Surface Rockets, Hand and Rifle Grenades and small arms ammunition.
These are scheduled to be destroyed by the JS EOD team from Mount Pleasant Complex in a number of controlled explosions, probably on 7th or 8th March. The DPO continues to validate the cleared land by sampling areas released in accordance with International Standards.
"To date, the quality of land cleared has been excellent and BACTEC can be proud of their record. We are planning an opening ceremony of the released area on Monday 26 March at 1700 hours, in the final days of the project to celebrate this success. The ceremony will be centred on the Corral and I hope it will be well attended by the community", announced Swanson.
Following the Falklands conflict in 1982, close to 20,000 landmines in 120 mine fields contaminated the Islands. Despite numerous concerns, including those relating to the environmental effects of clearance activities, the UK has began to remove all anti-personnel landmines from the Islands.
A pilot program for landmine removal began in late 2009, conducted by Battle Area Clearance and Training Equipment Consultants International Ltd., BACTEC, with program direction and quality control oversight by the newly created Falkland Island Demining Programme Office. (Penguin News)