Putin declares victory; opposition claim fraud, protests scheduled for Monday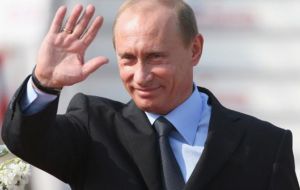 Vladimir Putin has declared victory in Russia's presidential elections, returning for a third term after spending the last four years as the country's PM. Exit polls and preliminary results gave him about 60% of the vote.
Putin told supporters at a rally in central Moscow they had won in an open and honest battle. But opposition groups have reported widespread fraud, with many people said to have voted more than once.
They have called for mass protests in central Moscow on Monday.
Meanwhile tens of thousands of supporters of Mr Putin gathered with Russian flags and banners outside the Kremlin for a concert to celebrate his victory.
Making a brief appearance with current President Dmitry Medvedev, Mr Putin thanked his supporters from "every corner" of the country.
"I promised you we would win, and we won," he said, his eyes watering. "Glory to Russia!"
"We have won in an open and honest battle; "We proved that no-one can force anything on us."
Slogans on the banner included "Putin -our president" and "We believe in Putin", but there were indications that some participants had been ordered to attend.
There is tight security in the city, with 6,000 extra police brought in from outside.
The electoral commission showed preliminary results, with returns from more than half the polling districts, showing Mr Putin gaining over 64%, enough to give him a first-round victory over nearest rival Gennady Zyuganov, with about 17%.
The other three candidates were in single digits.
In a news conference after the polls closed, Mr Zyuganov described the elections as "unfair and unworthy". But he said that with increasing public anger, Mr Putin "would not be able to rule like he used to".
"These elections cannot be considered legitimate in any way," said Vladimir Ryzhkov, one of the leaders of the street protest movement, which was not represented in the election.
The turnout was 58.3% by 18:00 Moscow time (14:00 GMT), considerably higher than in 2008 elections. Electoral officials forecast a final turnout of 62.3%.
The election was held against a backdrop of popular discontent, sparked by allegations of widespread fraud during December's parliamentary elections in favour of Mr Putin's United Russia party.