US warns Argentina could loose trade benefits for not complying international investment rulings
Monday, March 5th 2012 - 23:12 UTC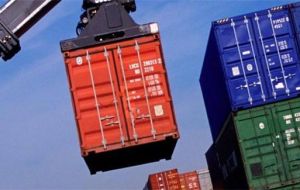 United States could soon suspend trade benefits for Argentina warned on Monday an official from the Department of Commerce. US accuses Argentina of not paying awards in two long-running investment disputes with US companies following rulings from an international tribunal.
"We hope to make a recommendation to the president (Barack Obama) in the near term," a US trade official told an international news agency.
The United States currently waives duties on some imports from Argentina under the Generalized System of Preferences program, a trade program aimed at helping create jobs in developing countries.
"USTR accepted two petitions in June 2010 seeking withdrawal of Argentina's GSP benefits due to the Argentine government's non-payment of two separate ICSID (the World Bank's International Centre for Settlement of Investment Disputes) arbitral awards," the US trade official said.
"Our review of the two petitions is at an advanced stage, and the matter is being discussed at senior levels of the administration. The administration takes the two petitions very seriously and has engaged with the Argentine government at the highest levels on the underlying issues," the official added.
One case is believed to involve Azurix Corp, a Houston-based water services and investment company that was granted a 30-year water concession in Argentina in 1999.
Last year, Representative John Culberson, a Texas Republican, wrote to US Treasury Secretary Timothy Geithner urging him to help Azurix collect an ICSID award from Argentina totalling more than 165 million dollars.
According to the US government the Generalized System of Preferences (GSP) is a program designed to promote economic growth in the developing world by providing preferential duty-free entry for up to 4,800 products from 129 designated beneficiary countries and territories.