China increases defense budget to 100bn dollars; India says it is closer to 150bn
Tuesday, March 6th 2012 - 04:51 UTC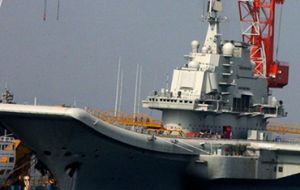 China has announced it will increase defense spending by 11.2% in 2012, for the first time taking its annual military expenditure beyond 100 billion dollars as it puts in place plans to modernize its Army against the backdrop of an uncertain regional environment.
The planned defense budget was announced in Beijing on Sunday as 670.274 billion Yuan (106.39 billion), an increase of 67.604 billion Yuan over the expenditure in 2011 and an 11% year-on-year rise. The proposed budget is expected to be approved this week when the National People's Congress (NPC), the top legislative body, begins its annual session.
Li Zhaoxing, spokesperson for the NPC, told reporters the rise in military spending was in keeping with the growth in the GDP and fiscal expenditure. He pointed out that the spending as a share of GDP was only 1.28%, lower than many countries including the US and the UK "where it exceeds 2%".
It however remains unclear how China's neighbors will perceive the double-digit percentage rise, with several countries, from India and Japan to those involved in disputes over the South China Sea, having expressed concerns in recent months over the rise in military spending.
The defense budget grew by 12.7% last year to 91 billion, though spending grew by a lower than expected 7.5% in 2010, the first time in two decades that the increase was a single-digit figure on account of the global financial crisis.
China's spending in 2012 will exceed what India spent last year by three times — India's defense expenditure was reported at 36 billion dollars in the 2011-12 budget.
While Indian defense officials have expressed concern over the widening gap between both military spending and infrastructure in border regions, Mr. Li of the NPC stressed on Sunday that China's military "will not in the least pose a threat to other countries" and followed a policy that was "purely defensive" in nature. China's military spending mainly comprised the living expenditures of service people, expenses for training and spending on equipment, he added.
But many analysts say China does not include in its budget a range of costs that contribute to its military modernization, as well as a number of dual use technologies and military research and development programs that are accounted for under civilian budgets, such as the space program.
"Since the Chinese budget does not include modernization, dual-use technologies, R&D aspects and export-import numbers, the figure that we saw on Sunday is not the ultimate truth," said Srikanth Kondapalli, an expert on the Chinese military at Jawaharlal Nehru University.
"Western estimates say the actual figure should be at least double, although Indian estimates place the budget at 150 billion rather than the Pentagon's 220 billion dollars figure."
Analysts say the main focus of China's military spending is directed towards deployments in the South China Sea, where disputes have surfaced with many of China's neighbors and Beijing wary over increasing US activity in the Asia-Pacific, and also towards Taiwan, which has historically been the People's Liberation Army's focus but has begun to recede as a priority with the recent warming in Cross-Strait relations.