FIFA yields and Valcke apologizes to Brazil for his comments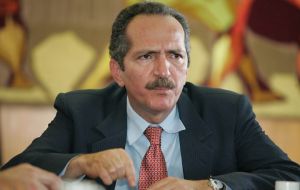 FIFA Secretary General Jerome Valcke apologized to Brazil on Monday after the country's government officially informed FIFA that it would no longer deal with him because of his remarks about its preparations for the 2014 World Cup.
In a statement addressed to Brazil's sports minister, Valcke said his comments translated from French to Portuguese last week came out much stronger than they were supposed to.
The apology came after Brazil delivered a letter signed by Sports Minister Aldo Rebelo to FIFA President Sepp Blatter officially announcing the country's position not to welcome Valcke.
Urging Brazil to speed up its World Cup preparations, Valcke was quoted on Friday saying: "You have to push yourself, kick your (backside)."
Valcke was quoted in English too, but in his apology he said that his words "in French" meant only that Brazil needed to "pick up the pace" in its preparations. He said the expression he used "was translated to Portuguese using words a lot stronger."
"I lament profoundly that the incorrect interpretation of my words caused so much worry," he said in his statement released by the Brazilian government. "I would like to apologize to (Rebelo) and any other person who might have been offended with my words."
The sports ministry said it would not immediately comment on Valcke's apology because it was received after Rebelo's letter was delivered to FIFA. The press office said it didn't yet know whether the government would accept the apology or whether it would change its position regarding Valcke.
The ministry said that it was aware that Valcke's comments were made in English too. Valcke also said in his letter that "certainly" there is a sense "of concern within FIFA" regarding the World Cup.
"As the person ultimately responsible for this World Cup, I'm under a lot of pressure," Valcke said. "The World Cup is key to our entire system."
He also said that the problems with Brazil's preparations can be solved and reiterated that Brazil "is and will always be the only option to host" the World Cup.
"I'm confident that there isn't a problem which can't be overcome with efforts by FIFA, the local organizing committee and the Brazilian authorities," he said.
Valcke's apology may have come just at the right time, the day before a congressional commission is expected to vote on a key bill regulating the World Cup.
FIFA needs the proposed law to be approved because it gives football's governing body the legal guarantees to organize the World Cup, but Valcke's comments on Friday could have increased resistance from opposition lawmakers.
Among the issues which will go under consideration by congressmen on Tuesday is the sale of alcoholic beverages inside stadiums, something that currently is against the law in Brazil but which FIFA supports because Anheuser-Busch InBev is a major World Cup sponsor.
FIFA says Brazil accepted such changes in the law when it was picked to host the tournament in 2007.