Argentine 'non official' February inflation: 1.65% and 22.75% in twelve months
Friday, March 9th 2012 - 03:12 UTC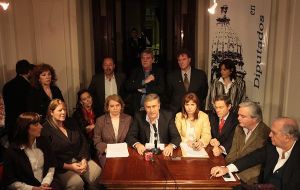 February inflation in Argentina according to an average of private agencies which is released monthly by members of the Congressional opposition was 1.65%, climbing to 22.75% in the last twelve months. The official Indec inflation is scheduled to be released next March 13.
Argentine opposition lawmakers every month release an average of private consultants' consumer prices index estimates, since the Domestic Trade Secretariat has threatened those organizations with fines of up to 150.000 dollars if they make public their reports.
Since the Argentine Stats office Indec five years ago, under former president Nestor Kirchner, had its professional staff removed and replaced by political cronies, the gap between the two indexes has soared: while the official Indec 12-month percentage is below two digits, the so called Congressional index has always been in the twenties.
Lawmaker Ricardo Gil Lavedra said that "inflation exists even when the government tries to erase reality and the legal system", in reference to the ban on making public private consultants estimates.
Another lawmaker, Paula Maria Bertol underlined that the Indec numbers do not reflect reality "and we will continue making public the index from public consultants because it is a question of freedom of expression and the people's interest and right to know".
She added that inflation continues to erode the competitive (export) dollar of the first years of the Kirchner couple and this is clearly reflected in the outflow of capital. It also means less investment and less jobs for the Argentines".
Nevertheless Gil Lavedra added that the February index was below the 1.7% of January, particularly since summer and holiday months tend to be less prices yield, "but we can expect a strong surge in March which is the beginning of the school year with all the spending for the new school year".
In the last six months the Congressional index showed the following inflation percentages: January, 1.7%; December, 1.9%; November, 1.4%; October, 1.5%; September, 1.9% and August, 1.9%. But for Indec the figures were as follows: 0.7%; 0.8%; 0.6%; 0.6%; 0.8% and 0.8%.
The Indec inflation for 2011 was 9.5% while the Congressional index, 22.8%.