Brazil to invest 22 million dollars to rebuild Antarctic station destroyed by fire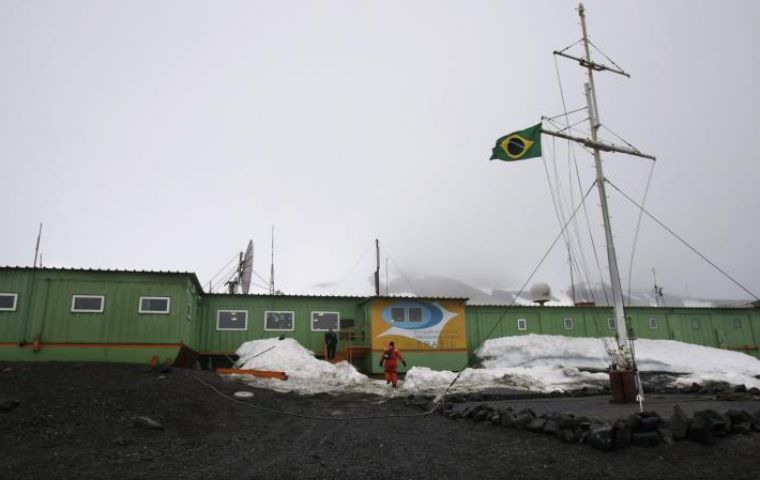 Brazil approved the allocation of 40 million Reais (approx 22 million dollars) to rebuild and modernize the country's Antarctic research station Comandante Ferraz which was destroyed during a fire last month.
The announcement was published in the Official Gazette and includes reconstruction funds as well as Ministry of Science, Technology and Innovation 1.1 million in grants to help students rebuild their projects as well as 4.5 million to replace scientific equipment lost in the fire.
The fire broke out last February 25 in the building housing the generators and rapidly spread to the rest of the compound causing the death of two Navy personnel and serious injuries to a third. Losses were extensive particularly in the research labs area.
When the fire broke out 60 staff between military and scientists were at the station which began operations in 1984 and is focused on climate change research. The Comandante Ferraz station is located on King George Island.
Chilean, Argentine, British, Uruguayan, Polish personnel from nearby bases helped combat the fire and rescue the staff that was flown out to Punta Arenas.
But the blaze also exposed the many flaws and 'improvisations' of the Brazilian compound mainly that it lacked a back-up generator which meant the station was out of energy and water.
"When fire breaks out in the generators' room you run out of energy, water and alarms don't work. There was no independent power unit to help put out the fire in this case. Hopefully this will bring great changes so such an incident does not repeat itself", said Jose Retamales head of the Chilean Antarctic Institute and who helped combat the blaze and coordinate the evacuation.