Trade, political refugees and Falklands' flights in CFK/Piñera summit agenda
Monday, March 12th 2012 - 22:17 UTC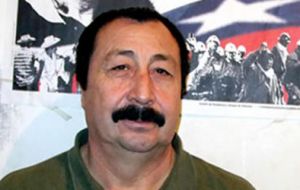 Increasing common infrastructure projects such as tunnels and border crossings between Chile and Argentina will be the main motive of this week's presidential summit between Sebastian Piñera and Cristina Fernandez.
But the agenda also includes highly sensitive issues as extradition of an Argentine judge involved in human rights violations and that of a former terrorist who is accused in Chile of killing a senator in democracy, plus the delicate issue of Lan Chile commercial flights to the Falklands from Punta Arenas which the Argentine government wants to review.
The flight is weekly with once a month call at Rio Gallegos. President Cristina Fernandez announced the review of the 1999 agreement signed by UK, Argentina and the Falklands government and offered to replace the single flight with three a week, but from Buenos Aires and in Aerolineas Argentinas.
Former Judge Otilio Romano from Mendoza is named in 103 cases of human rights dating back to the military regime. He is currently in Chile with night home arrest. The case of Galvarino Sergio Apablaza is also complicated: he was granted political asylum in Argentina in spite of his sentencing for the killing of a Chilean senator in 1991, as well as the kidnapping of a media top businessman. Apablaza is also married to a high ranking official from the Cristina Fernandez administration.
However an interesting point of the bilateral relation is that trade among the neighbours, (still significant: 4.75 billion Argentine exports in 2011), has fallen dramatically in the last ten years, in contrast with what has happened with other partners such as Mercosur, China and Africa. This is attributed mainly to the fact that Chile is no longer Argentine-gas dependent, and the growing rifts in bilateral trade because of the Buenos Aires protectionist policy.
According to the daily La Tercera, Chilean ambassador in Buenos Aires Adolfo Zaldivar will transmit to Domestic Trade Minister Guillermo Moreno, on Tuesday, the Chilean business community concern with the restrictions on imports. Likewise with Federal Planning minister Julio De Vido regarding the denial to Lan Chile to operate from the metropolitan airport of Aeroparque direct flights to Santiago de Chile and Sao Paulo.