Piñera reiterates full support to Argentine claims over the Falklands
Friday, March 16th 2012 - 08:26 UTC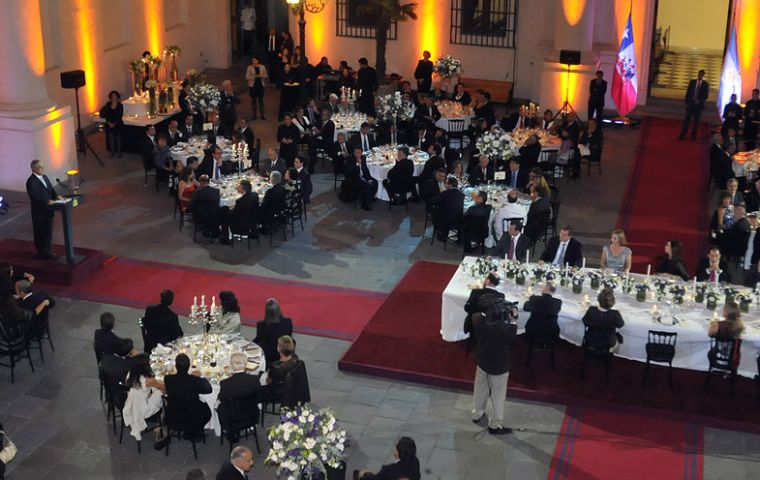 Chilean president Sebastian Piñera expressed full support for Argentina's claim over the Falklands and called for greater integration with the neighbouring country in his welcome speech during a gala dinner to honour visiting Argentine president Cristina Fernandez.
"President, I would like to take advantage of your presence here tonight with us to honour the memory of all those fallen heroes in that confrontation, and reiterate the most firm support of our country to Argentina's rights in the sovereignty dispute referred to the Malvinas, South Georgia and South Sandwich Islands and adjoining maritime spaces" said Piñera at the Government House, La Moneda ceremony Thursday evening.
He added that that has been the stance of the Chilean governments that preceded him before different international scenarios.
Piñera recalled the very close and shared history of the two neighbouring countries beginning with the decisive help received by the Chilean patriot forces from Argentina and General San Martín, to achieve independence from the Spanish Crown.
"It's hard to find in the world two countries with such strong understanding and integration commitment than Argentina and Chile" said Piñera pointing out to a comment by President Juan Domingo Peron (who ruled Argentina in the mid forties to mid fifties and later in the seventies) "the integration of Chile and Argentina does not add, it multiplies".
The Chilean president called for a "definitive integration, that seals our destinies in such a way that is makes unviable any possible future conflict between our nations", and insisted that the great challenge of our generation and which will take most of our time tomorrow (Friday) in our conversation, is the return to our common roots and to be ready for the desires and dreams of our peoples on both sides of this marvellous Andes cordillera".
Integration should cover the fields of science, culture, medicine, defence and particularly collaboration in international peace keeping missions.
Finally Piñera underlined the latest of agreements reached by Argentina and Chile, mainly a common position regarding the Antarctic territories; organs transplants for children from both countries; aid when a major catastrophe strikes one of the two countries and putting at disposal of Argentina, Chile's free trade platform.