Former councillor Cockwell receives OBE from the Queen for promoting Falklands internationally
Tuesday, March 20th 2012 - 22:23 UTC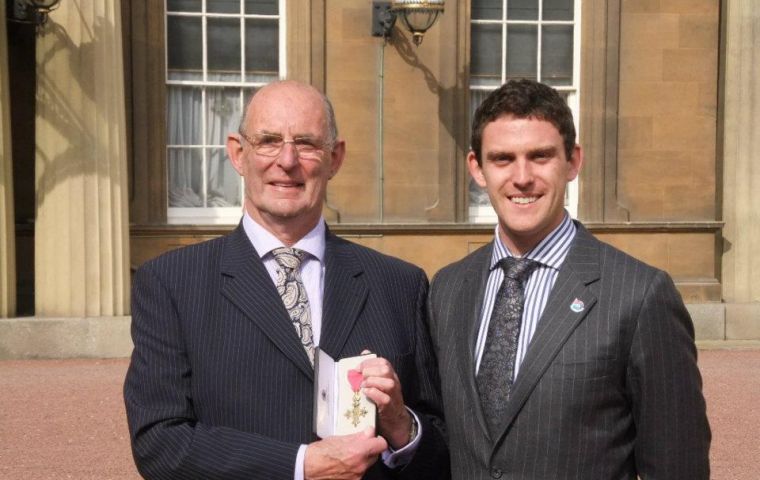 Former Falkland Islands elected Councillor Richard Cockwell last week received his OBE from Her Majesty the Queen at Buckingham Palace. Richard was awarded the honour for his work promoting the Falklands internationally.
"It was a wonderful day. It was very strange because I knew I had the OBE and it was a great honour and everything else, but it really hit home while we were waiting to be received by the Queen, suddenly we realized it was something really special", said the former lawmaker.
Cockwell said he took his brother and sister in law and his son Sam as guests to the ceremony and arrived at Buckingham Palace at ten in the morning, Wednesday 14 March.
While the guests were separated on arrival at the Palace, those to be honoured were briefed on what the protocol was and at eleven o'clock sharp we were taken before the Queen. Everything went out 'smoothly and well organized'.
"The Queen was there which was great, we weren't quite sure if it was going to be the Queen, but it was the Queen and she was very nice. We had the honour of a little chat, we even talked about Prince William in the Falklands", said Cockwell.
"We then moved away and it all went extremely well and I really enjoyed it, I'm very glad I came to London, I was a bit doubtful to start with but I'm very glad I came to receive the award, and yes it was a wonderful day".
Former Councillor also revealed the Queen was pleased that her grandson was in the Falklands.
"Yes, she was talking about it and told me that he seemed to be enjoying his time in the Falklands. The Queen said the Prince had done quite a lot of work and was very interested that William seemed to be getting around and not bothered to be in the Falklands", concluded Cockwell.
Richard Cockwell has a livestock farming background having managed a farm with 150.000 sheep. In 1985 he built and opened the Falkland Mill designed to process Falkland wool into yarn and knitwear.
In 1997 he was elected as a member for Camp in the Legislative Council and in 2001 having moved to Stanley, Richard was elected as a member for Stanley. He did not run again in 2009.
During his time as a Member of the Legislature, Richard has held various portfolios: Fisheries, Public Works, Planning and Building, Falkland Landholdings, Tourism, Agriculture, and IT. He has also held the second Member's position for various portfolios including Minerals, Development, Police and Public Safety, Health and Medical Services.
During his time as a member he spent five years as a member of the Executive Council. He has also represented the Falkland Islands with the Commonwealth Parliamentary Association on many occasions and was appointed as an executive member between 2001 and 2004, being elected as Acting Chairman for the Plenary meeting in Canada in 2004. (FIRS).