Populism very much alive in Latam subtly converted to 'delegative' democracy
Friday, March 23rd 2012 - 00:34 UTC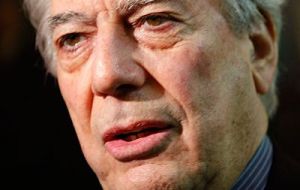 Populism in Latinamerica has moved from the dictatorships of past decades to the so called "delegative" democracies such as those of Venezuela and Argentina, according to a group of Latam intellectuals meeting in Peru in an international seminar, "Latin America: opportunities and challenges".
The International Foundation for Freedom organized the seminar at the University of Lima with the participation of its president and 2010 Nobel Literature laureate Mario Vargas Llosa together with the attendance of several former presidents and outstanding political analysts and journalists such as Argentina's Mario Grondona and Marcos Aguinis; Chile's Mauricio Rojas and Mexico's Enrique Krauze.
Grondona said that the difference between a normal democracy and a 'delegative' democracy rests on the attitude of a political leader who reaches office and considers his victory as "an epopee for the re-foundation of the State" and is committed to the search of instruments that turn into an automatic re-election process.
"Authoritarianism also has variants and there is not a single image of autocracy because although there are no longer military autocracies, there are other regimes which are even more dangerous since they are more subtle".
Marcos Aguinis said that Argentina "possibly has the longest lasting populism since it took off in 1945 with Juan Domingo Peron and has sustained for decades until we reached the authoritarian Peronism of former president Nestor Kirchner and the current haughty and arrogant version with his wife Cristina Fernandez".
Aguinis characterized populism as a regime that "only cares about the short term; takes advantage of poverty to ensure votes; tries to appropriate the most public funds possible; has an extraordinary ability to transfer their responsibility in poor performance to others and does not accept dissent or plurality of opinions".
Mexico Krauze defined populism as a 'perverse simplification of democracy" which creates a "hypnotic link between the leader and the people, which in a disarranged State can lead to a dictatorship".
Krauze said that populism is not precisely the great problem of Mexico but warned that "in political forces and among the people persists as a candidate for the 2012 presidential elections, the candidacy of Andres Manuel Lopez Obrador".
The Mexican historian also praised the attitude of the Venezuelans which still continue going to the polls "in spite of 14 years of Chavist regime" because Venezuelans are a people who loves freedom, has civic decency and continues to resist".
Vargas Llosa said that "Venezuelans committed the same mistake seven times in a row by voting a populist demagogue" and said he was hopeful the opposition could win the next elections and defeat President Hugo Chavez.
"The Venezuelan opposition has a whole range of postures and political doctrines which have joined into a movement to recover freedom, which irresponsibly they lost when they voted against her at the polls", conclude the Nobel laureate.