Brazil's union files lawsuit against Chevron and Transocean over oil spill
Friday, March 30th 2012 - 07:05 UTC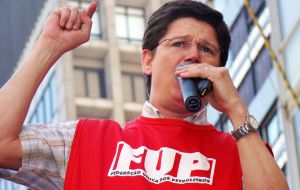 Brazil's largest oil workers union filed a lawsuit against US oil company Chevron and drilling firm Transocean that seeks to cancel their rights to operate in the country as the result of an offshore oil spill last November.
The case, brought by the FUP oil workers federation in Brazilian federal court, raises the legal and political stakes for Chevron and Transocean which are already fighting criminal and civil cases related to the spill.
FUP, which has long opposed foreign involvement in Brazilian oil development, said Chevron and Transocean "offended the Brazilian people" with "predatory and environmentally unsound practices.
FUP wants the court to force Chevron to give up a field that has cost about 2 billion dollars in investment and was producing up to 80,000 barrels a day of oil. It also seeks unspecified financial damages for the Brazilian people.
In addition to the Sedco 706 drill platform working for Chevron, Transocean has nine other billion-dollar-plus rigs working in Brazil. Each earns hundreds of thousands of dollars a day in lease fees.
"Chevron lied to the Brazilian state", said Joao Antonio Moraes, FUP's legal coordinator.
"We're seeking the cancellation of their concession in the field where their operations have shown to be predatory and environmentally unsound".
The November spill in the Frade field about 120 kilometres off Brazil's coast leaked about 3,000 barrels of oil in the Atlantic, less than 0.1% of BP's Deepwater Horizon spill in the Macondo field in the Gulf of Mexico.
Chevron and its partners Petrobras and a Japanese group led by Inpex and Sojitz asked for and received permission to shut down production at the Frade field northeast of Rio de Janeiro after finding small, unexplained leaks early this month.
FUP's case also asks the court to order Chevron and Transocean to compensate Brazil for royalties that have been lost to delays related to the spill and shutdown, according to Normando Rodrigues, the lawyer responsible for the case.
The Campos Basin, home to the Frade field, produces about 80% of Brazil's 2.68 million barrels a day of oil and natural gas equivalent output.
FUP, which is made up of 13 separate unions in Brazil, represents more than 300,000 workers in Brazil's oil industry. It does not represent any Chevron or Transocean workers in Brazil.