Uruguay against any Falklands' blockade; supports trade with the Islands
Friday, March 30th 2012 - 06:47 UTC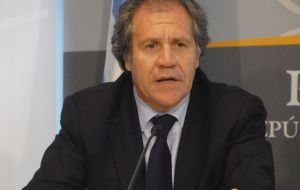 Foreign Affairs minister Luis Almagro said that the Uruguayan government does not oppose trade with the Falkland Islands and any undertaking to that effect by the private sector is welcome since "Uruguay does not agree with any commercial or economic blockade of the Islands".
"Supporting any form of blockade would be a violation of the Malvinas inhabitants' human rights and the same we say with Cuba, we repeat in this case" said Almagro.
The minister added that Uruguayan business people make business "with whom they wish and with whom they can…Uruguay, the administration of President (Jose) Mujica from the very first moment never said that a commercial blockade of the Islands was needed".
Nevertheless Uruguay supports Argentina's sovereignty claim over the Falklands and recently co-sponsored a Mercosur resolution barring all Falklands' flagged vessels from regional ports.
Almagro's statements come at a crucial moment for the government of President Mujica who is going through one of its worst moments in the bilateral relation with Argentina because of the continuous trade restrictions imposed by the administration of President Cristina Fernandez. President Mujica has encouraged his ministers and Uruguayan business people to search for new markets.
The controversy about trade with the Falklands was born out of a piece from London's The Sun saying that Uruguay 'was breaking the trade embargo imposed on the Falklands by Argentina', with a business delegation that will be flying to the Islands with a chartered aircraft next April 13.
A group of 19 Uruguayan businessmen had already visited Falklands during February seeking for new opportunities mostly in the agribusiness area.
Guillermo Wild, vice-president of the Uruguayan-British chamber of Commerce said the piece from The Sun was 'confusing'.
"Uruguay has traded with the Falklands continuously during 200 years. Trade was never interrupted and now we have a concrete problem with Argentina so any trade from Uruguay with the Falklands outstands and is motive of headlines for the English media", said Wild.
Furthermore "there is not such economic blockade as mentioned by The Sun. The only impediment is for vessels flying the Falklands flag to access Mercosur ports. Besides that any vessel and sail in and out of the Falklands".
Wild said the whole thing blew out of proportion when The Sun got hold of "a copy of a note I sent Falklands' businesses on the possibility of a cargo charter flight and if anyone was interested to let us know"
"An air cargo company showed up at the Chamber and asked about the possibility of making a flight to the Falklands and consulted us on possible business contacts. What we did was to contact local businesses but so far no one has turned up", revealed Wild.
The vice-president of the Uruguay-Britain Chamber said the trade situation from Uruguay with the Falklands is "business as usual" with the only exception for Falklands flagged vessels, which was agreed at last December's Mercosur summit and 'sent the wrong message'.