Sanctions on Iran force Uruguay to propose Teheran rice for oil barter deal
Sunday, April 1st 2012 - 08:45 UTC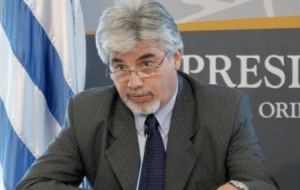 Uruguay will consult with Iran the possibility of exporting rice in exchange for oil, the government of President Jose Mujica said on Friday.
Iran is the major destination for Uruguayan rice but the impact of US and EU sanctions, aimed at curbing Tehran's alleged nuclear ambitions has put a strain on the financing of such operations.
"If Iran is willing to barter oil for rice we will do it and we will take out currency from (the operation)," said Agriculture Minister Tabare Aguerre.
Uruguay is Latin America's top rice exporter and a close ally of the United States in the region. Washington has said that it could impose sanctions on countries that buy crude from Iran.
Pressure from Washington and Brussels which will implement an EU-wide embargo on Iranian oil beginning next July, as part of the campaign against Tehran has led to a rally in oil prices this year as markets fear supply shortages.
Uruguay is the world's seventh rice exporter, mostly high quality, and Iran for over three decades has been one of the country's main buyers. Last year rice exports to Iran totalled 90.000 tons.
On Friday also President Barack Obama vowed to forge ahead with tough sanctions on Iran, saying there was enough oil in the world market - including emergency stockpiles - to allow countries to cut Iranian imports.
In his decision, required by a sanctions law he signed in December, Obama said increased production by some countries as well as "the existence of strategic reserves" helped him come to the conclusion that sanctions can advance.
"I will closely monitor this situation to assure that the market can continue to accommodate a reduction in purchases of petroleum and petroleum products from Iran," he said in a statement.
Obama had been expected to press on with the sanctions to pressure Iran to curb its nuclear program, which the West suspects is a cover to develop atomic weapons but which Iran says is purely civilian.