Cristina Fernandez leads main Malvinas war commemoration in Ushuaia
Monday, April 2nd 2012 - 01:49 UTC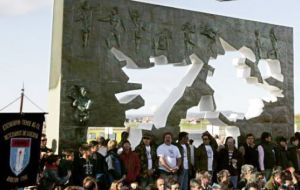 Argentine president Cristina Fernandez will lead on Monday the main ceremony commemorating the 30th anniversary of the beginning of the Malvinas war or South Atlantic conflict, when Argentine troops invaded the Falklands and held them for 74 days until ousted by a British Task Force.
The ceremony will take place at midday in the extreme south city of Ushuaia, in the Plaza Malvinas recently expanded and renovated close to the port from where many of the vessels involved in the preparation of the invasion and late the conflict operated in 1982.
Cristina Fernandez will close the ceremony with a message on national television when she is expected to make some announcements on the growing diplomatic escalade with Britain over the sovereignty of the Falklands and other South Atlantic Islands.
The whole Argentine ministerial cabinet, provincial authorities, military commanders, diplomats, Malvinas veterans, next of kin of the fallen, tens of international and local media representatives as well as public in general, will be participating of the ceremony which takes place in Tierra del Fuego that according to the 1994 Argentine constitution also includes the Malvinas, South Atlantic Islands and Antarctic territories.
The Plaza Malvinas has an impressive monument representing the map of the Islands, a cenotaph with the names of the 649 Argentines killed in the conflict and an eternal flame. A huge Argentine flag flies in the plaza.
Other speakers at the remembrance include the Governor of Tierra del Fuego, Fabiana Rios, mayor of Ushuaia Federico Sciurano and two representatives from Malvinas war veterans.
However the anniversary commemorations effectively took off on Sunday at 17:00 hours in the Patagonian cities of Ushuaia and Rio Grande with concentrations of former combatants involved in the so called "vigil" which consists in waiting for April 2, the dawn of which thirty years ago Argentine forces invaded the Falklands to 'recover' full sovereignty of the disputed Islands.
The vigils not only bring together the war veterans and next of kin but thousands of people who accompany the event which includes debates, artistic presentations plus some exhibits in tents specially set up for the occasion.
At midnight, at the Ushuaia Malvinas Plaza, people participate in the changing of the Argentine flag when the old one, victim of twelve months of strong wings and tough climate is replaced by a new one, usually donated by some private institution or government department.
Rio Grande also participates of the vigil since it was one of the main bases for launching air attacks on the Islands and the Task Force during the 74 day conflict that ended June 14, which in the Falkland Islands is celebrated as Liberation Day.
The Monday commemoration will not be limited to Tierra del Fuego since all Argentine provincial and city governments plus Malvinas war veterans' organizations have scheduled events recalling the start of the war.
In the capital Buenos Aires a march has been programmed to protest British 'imperialist colonialism" which is expected to end with a demonstration before the UK embassy.