Argentina's Prosecutor General resigns, looses first round to Vice-president Boudou
Wednesday, April 11th 2012 - 06:40 UTC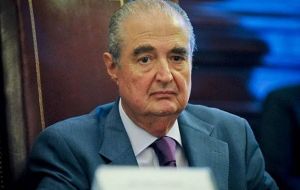 Argentina's Prosecutor-general Esteban Righi officially resigned to his post on Tuesday, following Vice-President Amado Boudou's decision to press charges against the prosecutor leading the investigation into the politician's role in the Ciccone currency printing company investigation.
Righi addressed a letter President Cristina Fernández explaining the reasons of his resignation and assured that "my honour and my family's honesty were questioned. I worked in this Government with the certainty of contributing to the dreams of many generations."
Righi became head of Argentina's prosecution office in June 2004, when Néstor Kirchner was in power, replacing Nicolás Becerra. The lawyer will be replaced by someone chosen specifically by the Government, a decision that will also have to be approved by the Senate.
Boudou filed a criminal report against the President of the Buenos Aires Stock Exchange, Adelmo Gabbi, and the lawyers' buffet of Prosecutor-General Righi, after making some piquant remarks of these two individuals on regards the ongoing Ciccone case.
Boudou's personal counsellor, Eduardo Durañona, filed the report at the Criminal Court number 4, which is in charge of Judge Ariel Lijo and Attorney Jorge Di Lello.
Last week, the Vice President accused Gabbi of asking him a bribe or kick-back to avoid Boldt's company head Antonio Tabanelli to trigger a furious campaign against the former Economy Minister; and Righi's buffet of asking him to establish a good relationship with all Federal courts.
"Buenos Aires Stock Exchange President, Adelmo Gabbi, asked for an appointment with me on March 3, to express his concerns about a destroying campaign that Boldt's head Tabanelli was going to pull on me, but that I could avoid it in case of offering a sum. We met again on March 11, and I told him that I did not want to listen to him anymore, and that I was not going to pay any money."
"When I was the head of the Anses (Social Security), members of the García, Labat, Musso, & Righi lawyers buffet came to tell me that I had to establish some good bonds with the Comodoro Py's Federal Courts. I never thought that I had to set "good bonds" with the Justice. I have had to personally deal with 20 cases and fortunately 18 of them were already closed as they were mere media cases. I never had any relationship with the Comodoro Py's courts".
In related news President Cristina Fernández chose the head of the Office of Internal Affairs, Daniel Reposo, as a candidate to replace former Procutator General Righi.
Presidential spokesman Alfredo Scoccimarro made the announcement and indicated that the Senate will have to approve Reposo's bid.