Brazil Senate won't consider controversial World Cup bill unless Blatter shows up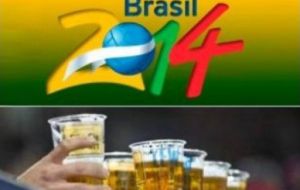 FIFA President Sepp Blatter is trying to schedule a trip to Brazil to speak at a public hearing about a controversial World Cup bill FIFA wants approved as soon as possible.
The Brazilian senate invited Blatter, but FIFA initially said it would send Secretary General Jerome Valcke to talk to the congressional commissions debating the bill. Senators last week rejected Valcke's visit and said they would only talk to Blatter.
Football's governing body said this week that FIFA president told the senate he will try to attend to discuss the bill, a bill which gives FIFA all the needed guarantees to organize soccer's showcase event.
"The FIFA president indicated that he will come back to the (Senate) regarding possible dates to meet the members of the three commissions in charge of elaborating the 2014 Bill," FIFA said in a statement. However "at this stage no visit of the FIFA president is scheduled."
Blatter's trip to Brazil could actually delay approval of the key bill which sets the legal and financial framework for the World Cup. The public hearing won't be scheduled until Blatter sets his agenda and the bill won't go under consideration by the floor until after he speaks to senators.
Senators don't want to talk to Valcke in part because he ignited a feud with the Brazilian government last month after crudely complaining about the country's slow preparations for the World Cup and next year's Confederations Cup.
Valcke and Blatter had to apologize, but FIFA president said the secretary general would remain in charge of working with the Brazilian government.
"FIFA has already apologized" Brazil sports minister Aldo Rebelo said this week while speaking to the congressional commissions discussing the bill. "We have to overcome this episode and move on so we can stay on schedule."
FIFA expected the law in place by the end of March, but the controversy over the sale of alcohol at games helped delay the vote in the lower house.
Alcohol is not allowed inside Brazilian stadiums, but FIFA demands a change because Budweiser is a World Cup sponsor. FIFA said Brazil agreed to change its law when it accepted hosting the tournament in 2007.