Falklands veteran Royal Marine and yomper, feels Falklands are well defended
Saturday, April 14th 2012 - 06:21 UTC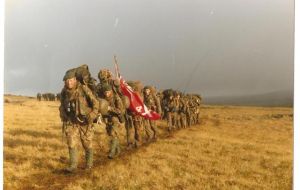 Retired Royal Marine Brigadier Ian Gardiner, who commanded a Marine company in the 1982 Falklands war, thinks a new Argentine attack on the Islands is unlikely.
With a British force crucially including aircraft, and defence systems lacking in 1982 covering the Islands, he suggests the most feasible plan would be to lull the UK into a false sense of security and then stage a surprise airborne assault to capture the Island's airbase and prevent British reinforcement of the South Atlantic archipelago.
Gardiner suggests populist politics in Argentina, where Cristina Fernandez, the country's first woman president, won election for a second term last October, and the possibility of oil around the Falklands had inflamed feelings there.
Gardiner made the comments to reporters following the release of his book, "The Yompers" (published by Pen and Sword Military), which gives a vivid account of the actions of 45 Commando in the bitter mid-winter fighting to retake the Malvinas.
The Yompers refers to the young Marines, whose term for cross-country hikes laden down with arms and survival kit is known as "yomping".
Gardiner gives a graphic account of the trail to war, and of the yomp across the Falklands in appalling wintry conditions - on foot because the Argentines had sunk the ship transporting the main re-supply and troop-carrying helicopters - and into the battle for the Two Sisters peaks that opened the way to the capture of Stanley, the islands' capital.
Gardiner also published in 2006 an account of his service as a young Marine on secondment to Oman's army in its Dhofar war against communist guerrillas where he got his baptism in battle in 1973-75.
"In The Service of the Sultan" is a vivid account of the fight to prevent the communist insurgency from threatening the key exporting route for oil from the Gulf. Both books provide thoughtful commentaries on the issues of command, control and motivation of troops in training and in combat.
Gardiner joined the Royal Marines in 1968 and also served in Northern Ireland before retiring in 2001 with the rank of brigadier. His final appointment was as military secretary to the Military Committee of NATO in Brussels, where he was involved in the political/strategic direction of the Kosovo conflict.