HMS Plymouth where the Argentine surrendered South Georgia in 1982, to be scrapped
Wednesday, April 18th 2012 - 18:47 UTC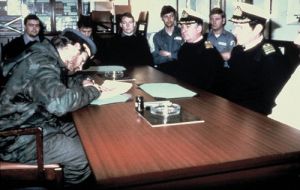 The Royal Navy warship which hosted the Argentine surrender of South Georgia in 1982 is to be scrapped despite an intensive campaign to save it from extinction, reports the UK media.
Thirty years ago, the wardroom of HMS Plymouth was where the notorious Argentine Navy officer Alfredo Astiz surrendered to British Forces in South Georgia. But now the 53 year old vessel is being sold to a Turkish scrap-yard.
Captain David Pentreath, HMS Plymouth's former Commanding Officer, said he was very sad at the prospect of the ship being scrapped. Martin Slater, secretary of the HMS Plymouth Association, said it was very insensitive to scrap the ship during the 30th anniversary of the 1982 War.
The 2.150-ton frigate launched in Plymouth in 1959 has been laid up since 1991. A spokesman from Plymouth City Council said no one had presented a feasible proposal to restore the ship as a tourist attraction.
HMS Plymouth was one of the first Royal Navy ships to arrive in the South Atlantic following the Argentine invasion of the Falkland Islands and South Georgia. Together with HMS Antrim, HMS Brilliant, HMS Endurance, Plymouth took part in the recapturing of South Georgia on 28 April 1982 during Operation Paraquet.
Plymouth landed Royal Marines from her Westland Wasp helicopters and bombarded Argentine troop positions on the island. Later her Wasp helicopter took part in an attack on the ARA Santa Fe submarine, which was badly damaged and later captured by Royal Marines.
Plymouth rejoined the Task force and supported troops on the ground by bombarding Argentine troop positions with her 114 mm guns.

On June 8, Plymouth was attacked by Dagger fighter bombers of FAA Grupo 6. She was hit by four bombs and several cannon shells. One bomb hit the flight deck, detonating a depth charge and starting a fire, one went straight through her funnel and two more destroyed her Limbo anti-submarine mortar. All of the bombs failed to explode but five men were injured.
The Argentine navy officer who signed the unconditional surrender, Captain Aztiz, also known as the "blonde angel of death", is now serving life imprisonment on charges of human rights violations including the death of two French nuns and a Swedish adolescent, during the military dictatorship 1976/1983.
.