Argentina warns Falklands' oil companies of May 2 deadline when legal actions begin
Thursday, April 26th 2012 - 01:33 UTC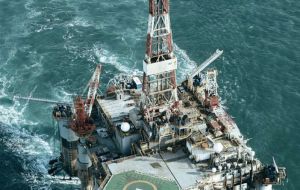 Argentina once again warned oil companies considered by the Government to be "illegally operating" in the Falklands/Malvinas Islands, and reiterated it will press charges against them unless they justify their actions before next Wednesday, May 2.
In a recent statement released to the press, the ministry said that on last April 17th, all oil companies currently performing exploration tasks in the 'Malvinas basin' were notified "of their clandestine actions and their consequences" by the Argentine embassy in the United Kingdom.
The companies notified were Argos Resources, Rockhopper Exploration, Borders and Southern PLC, Falkland Oil & Gas Ltd and Desire Petroleum PLC.
The Argentine government has set a May 2 deadline for companies to justify their activities.
"If case of failure to offer a response and once the legal deadline expires, we will issue the corresponding sanctions to every company according to a resolution by the Argentine Energy Secretariat, which considers these activities to be clandestine. The Government will also proceed to press criminal and civil charges," the ministry warned.
The Foreign Affairs release states that by doing this they "reaffirm Argentina's decision to defend the nation's sovereign rights by any peaceful means possible – both legal and diplomatic- as well as the country's natural resources, which belong to the Argentine people."