Brazil investing heavily in developing Peruvian natural gas sector
Thursday, April 26th 2012 - 05:59 UTC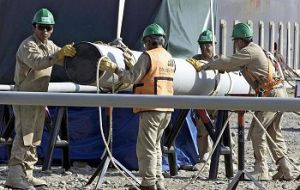 Three of Brazil's leading companies said on Wednesday they are increasing investment and exploration in Peru's natural gas sector as the country prepares to build a new pipeline and petrochemical plants.
Petrobras said it expects to find between 8 trillion and 10 trillion cubic feet of natural gas in two Peruvian petroleum lots.
Odebrecht, a construction firm, said it would invest 5 billion dollars, more than the 3 billion originally planned, in a 1.000 km pipeline from the Camisea gas fields to southern Peru that will feed petrochemical plants like Braskem's 3.5 billion project.
Peru's President Ollanta Humala has welcomed investment from Brazil and said last month the pipeline project will help transform Peru's energy matrix, which is highly reliant on petroleum imports.
Construction on the first stretch of the pipeline will start in June and be finished by 2014, said Odebrecht's General Manager for Peru, Jorge Barata. The final stretch to the region of Tacna near the Chilean border will be built by 2020.
"The first phase consists of building a pipeline to the area of Quillabamba and having a power plant," said Barata, referring to a south-central zone near Cusco.
The pipeline will feed major global energy firms like Braskem that plan to build Petrochemical plants in the south. The plants could produce everything from fertilizer to explosives, but they first must have steady and guaranteed supplies from the Camisea fields.
Braskem's country manager Jaime Quispusco, speaking at an event on the pipeline and petrochemical production, said the company plans to start construction of the plant in 2016. It will produce 1.2 million tons of polyethylene per year.
Petrobras, which said it plans to invest between 130 million and 150 million dollars in Peru in 2012, also said its future income would depend on the pipeline's construction.
Brazil's state-run oil company is exploring lots 57, in which it has a controlling stake, and lot 58, of which it owns 100 percent.
"We are going to explore for 8 to 10 tcf," said Petrobras' Peru country manager Pedro Grijalba. "We'll be able to sell the first molecule when the pipeline reaches the south."
Peru's existing gas reserves are estimated at between 11.2 tcf and 18.6 tcf.
Another Petrobras representative said future production from Peru could be shipped as LNG to Chile's Mejillones or Quintero re-gasification plants. The idea of exporting gas to Chile is politically sensitive in Peru as the two countries often have tense relations despite close economic ties.
"We could swap natural gas that Petrobras doesn't need," the company's Executive Manager for Gas and Energy Angelica Garcia Cobas told reporters in Chile.
She said Petrobras aims to increase output from the current 300,000 cubic meters of natural gas per day to 16 million cubic meters per day by 2020.