Russia and Brazil main buyers of Paraguayan beef in spite of FMD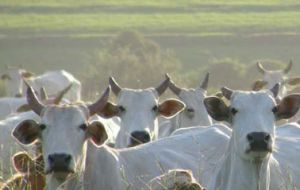 Paraguay refrigerated beef exports to Brazil soared 202% during March compared to a year ago and is turning the giant neighbour into the main partner for the item replacing Chile, which ceased purchases following an outbreak of Foot and mouth disease a few months ago.
"Brazil has gained territory in the last few months", said economist Belen Servin from the Paraguayan Economics Centre of Analysis, CADEP, analyzing the latest foreign trade release supplied monthly by the country's central bank.
However beef exports in March only totalled 71 million dollars, 20% less that a year ago, and in the first quarter beef exports reached 155 million dollars, which is 32% below 2011.
Beef is Paraguay's second export item behind soybeans but both ranchers and abattoirs suffered a major blow with the outbreak of FMD which meant the immediate ban for Paraguayan beef from Chilean and EU markets.
Russia the other big buyer of beef currently absorbs 77% of exports, followed by Brazil with a modest 14%. In spite of the increase of shipments to Brazil, refrigerated beef exports fell 80% over a year ago compared to a 50% increase in frozen beef exports in the same period, said Servin.
CADEP believes that in a conservative scenario, with Brazil as the main importer of refrigerated beef, Paraguay could export 502 million dollars of beef in 2012, which is 34% below last year. In a more optimist context, if shipments to Brazil and Russia recover to levels previous to the FMD outbreak, sales could reach 623 million dollars, 18% less than in 2011.