Bolivia seizes Spanish owned power company, but promises fair compensation
Wednesday, May 2nd 2012 - 05:07 UTC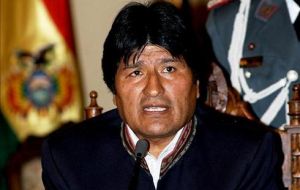 Bolivian President Evo Morales announced on Tuesday the expropriation of Spain's Red Eléctrica Española (REE) shares at a power transmission company in Bolivia and ordered the Army to take over the firm's headquarters.
However in spite of the display, sources in Madrid said the Bolivian government is in contact with Spanish authorities and has promised fair compensation for assets and investments.
"As a fair homage to the workers and the Bolivian people that has fought for the recovery of their natural resources and basic services, we nationalize the Power Transmission company" (TDE), Morales assured during the May Day rally at the Government Palace in La Paz.
The measure was announced in the midst of the tension generated between Argentina and Spanish Prime Minister Mariano Rajoy's government over the expropriation of YPF. RRE owns and runs around three-quarters of Bolivia's power grid.
The Head of State made the announcement a few hours before the inauguration of the gas processing plant at Southern Bolivia along with the President of Repsol oil company, Antonio Brufau, which will allow an increase of exports to Argentina.
The decree sets the "nationalization" of the "shares that form the stock of shares of the International Energy Mains-SAU," subsidiary of REE.
Morales justified the expropriation by assuring that "this Spaniard international company has barely invested 81 million dollars in 16 years, an average investment of five millions per year," which he considered insufficient.
In 2006, Morales used the May 1 holiday to announce the takeover of petroleum companies operating in Bolivia. He later nationalized oil and gas reserves to redistribute wealth to the landlocked country's indigenous majority.
However, Morales later back-stepped and reached new exploration and production agreements with oil and gas multinationals involved in Bolivia including Repsol and Petrobras.
According to Spanish news agencies, Madrid contacted Bolivian authorities after learning of the nationalization. PM Rajoy was briefed on the details of the expropriation in consultation with Foreign Minister Jose Manuel Garcia-Margallo and Industry Minister Jose Manuel Soria, said official sources.
At first glance, the Rajoy administration sees the Bolivian action as "very different" from Argentina's recent decision to nationalize oil company YPF, a unit of Spain's Repsol, one source said, while stressing the government's firm commitment to defending the interests of Spanish enterprises abroad.
Morales said Bolivia will take into account whatever investments REE has made in TDE.
"We are responsible with the companies," he said Tuesday afternoon from TDE's headquarters in the central Bolivian city of Cochabamba, where he travelled after making the initial announcement in La Paz.