Chilean students' leader rejoices with WSJ calling her a "red-diaper baby"
Wednesday, May 2nd 2012 - 06:04 UTC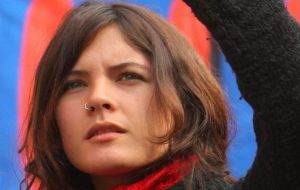 Camila Vallejo, Chile's iconic students' federation vice-president replied in her twitter to a scathing editorial from the Wall Street Journal saying the critique was evidence that Chilean public opinion is 'becoming conscious' and is 'advancing'.
In the article "Chile's Cautionary Lesson for the Americas," The Wall Street criticizes the Chilean student movement and describes the left wing sentiments in Chile as "an invitation to tyranny".
The principal target of the critique is the increasingly iconic student leader Camila Vallejo, a self proclaimed communist and admirer of Fidel Castro, who is described as a "red-diaper baby" brought up by supporters of former Chilean President Salvador Allende.
Author Mary Anastasia O'Grady describes Chile as a "poster child for liberal economic reform" but argues that the country is "desperately short of voices able to defend the morality of the market and the sanctity of individual rights".
"How it hurts them that Chile is becoming conscious! This is a sign of us advancing" said Camila in her twitter.
The editorial also blasts President Sebastian Piñera for his inability to deal with these social movements and stand up to "environmentalists" and leftist political leaders.
"The right too often cedes the moral high ground to its proponents. Mr. Piñera is among the culprits," the author explains. "His reactive half measures designed to satisfy the moderate elements of the equality brigades are undermining Chilean freedom."
The political system lacks voices that defend the morality of the market and the sanctity of individual rights", underlines TWSJ. The moral high ground is in the hands of left wing groups that support dictatorial governments such as that of Fidel Castro in Cuba.
The article finishes stating, "The technocrats might be congratulated for holding free university education at bay considering the political pressures. But the reason Camila Vallejo has them on the run in the first place is the more fundamental problem. If Mr. Piñera wants to solve it he will have to become an advocate for freedom."