US and EU concerned with "investment climate" following Bolivia's seizure of Spanish power company
Thursday, May 3rd 2012 - 07:39 UTC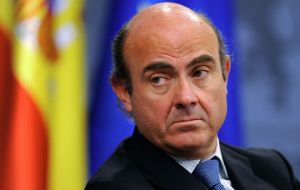 Bolivian President Evo Morales Government's decision to nationalize the main power transport company that was in hands of Red Eléctrica Española (REE) generated claims from Spain, while United States and the European Union showed their "concern."
The US government showed its "concern" over the decision announced by the Bolivian President to expropriate the REE shares of the power transport company Transportadora de Energía (TDE) and considered it "tarnishes the investment climate" in the country.
"We are concerned for the Bolivian government decision to nationalize TDE, which comes shortly after the Argentine announcement (to expropriate YPF)," US State Department spokesman Mark Toner assured during a press conference on Wednesday.
Similarly, the European Union expressed its concern. "The European Committee is worried about the decision of the Bolivian government to nationalize TDE, and is closely following the situation," John Clancy, spokesmen of the trade bloc, said during the daily press conference held at the European Committee headquarters.
Brussels considered it as a negative move: "actions like these send a negative signal to the international investors over the investment climate in Bolivia," it stated.
Meanwhile, he expressed Brussels is confident that "Bolivian authorities will respect the investment accords with Spain and guarantee a rapid and adequate compensation for this expropriation."
Speaking in Brussels Economy Minister Luis de Guindos criticised the move by Bolivia, but said the country had guaranteed Spain compensation.
"The Spanish government does not like these sorts of decisions as we believe it's fundamental to maintain legal security when investing in countries like Bolivia".
The nationalization could not come at a worse time for the Spanish government, the owner of 20 percent of Red Electrica, as it faces a recession, mass unemployment and investor concerns it will be the next Euro zone country to need a bailout.