Uruguay's April inflation spikes and remains well above the annual target
Friday, May 4th 2012 - 06:19 UTC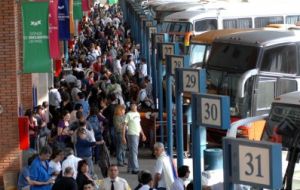 Uruguay's annual consumer inflation accelerated in April owing to a big increase in food, clothing and transportation prices, reported the government's statistics office, INE on Thursday.
INE said the index was 0.82% higher over March, accumulating 7.99% in the last twelve months compared to 7.48% for March and 8.34% for the year to April 2011. Inflation in the first four months of the year reached 3.42%.
In April, gains in the CPI were driven by a 1.2% increase in food and nonalcoholic beverages; transportation rose 1.23%; clothing, 1.22%; housing 0.70%; and education 0.63%
Inflation remains a headache for the Central Bank of Uruguay and the government of President Jose Mujica. The bank raised its benchmark rate 2.25 percentage points to 8.75% last year to contain 12-month inflation that is running well outside its target range of 4% to 6%.
In March, the bank kept its key rate unchanged at 8.75%, saying the current level is consistent with a restrictive monetary policy.
Inflation has started to ease, but continues to remain "notoriously" above the target range set by policymakers, the bank said in its quarterly monetary policy statement. In effect April ended the sliding decrease in inflation which started in the first quarter of the year.
Last year inflation in Uruguay reached 8.6%, well above the 6% higher range of the Central bank target. The target for 2012 has been established between 4 and 6%.