Malvinas spot could ruin Argentine Olympic team spirit, warns athletes' delegate
Monday, May 7th 2012 - 07:21 UTC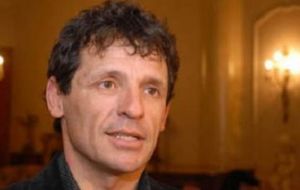 The controversial Malvinas/Olympics advert promoted by the Argentine government ahead of the London Games not only has had negative reactions worldwide but has also triggered deep concern among members of the Argentine Olympic team.
"For us athletes that spot is really painful. The fact that the video is considered controversial hits us hard; it's like telling us you're heading for failure. Nobody questions the Malvinas issue but this is not the scenario or the moment to pick a fight ahead of the Olympic Games", said Juan Curuchet a Beijing 2008 gold medal in track cycling and athletes delegate before the Argentine Olympic Committee.
"The spot couldn't have been worst ill-timed: Zylberberg has been really affected by all that has happened and is being said about him. And I don't even want to imagine what could happen and how our athletes could feel if they are booed during the opening ceremony. How can they compete after that?" added Curuchet (43) who has the Argentine record of having competed in six Olympic Games.
In the controversial ad field hockey captain Fernando Zylberberg is filmed training for the London Games by running past landmarks of the capital of Stanley with a strap line saying "To compete on British soil, we train on Argentine soil".
Curuchet also questions the very strap line: "The spot says we are training in the Islands but in reality many of the athletes can't even train here because all the equipment and materials remain retained by Customs since 9 October".
The retained equipment valued in almost 8 million dollars has been claimed on several occasions before but on this time given the media impact of the spot and its consequences apparently some time next week it will be liberated.
"There are bicycles, oars, GPS, special tracks, mostly state of the art equipment, to better train and compete in equal conditions with athletes from other countries. Most of our boys are training with the old stuff, if they have it", revealed Curuchet, who added an incredible ingredient to the anecdote.
"When I talked with Sports Secretary (Claudio Morresi) he told me that to receive goods purchased from overseas, the athletes would have to export to help compensate Argentina's trade balance. It's a joke I said: what are we going to export: athletes, quality, names, brands, images, I don't know, I asked him please enlighten me", confessed Curuchet.
The athletes delegate added the situation was also particularly bemusing and even humorous since the Argentine government in 2009 signed a law creating the Sports High Performance Office, with sufficient funds from a levy on mobile phone calls precisely to promote sports and Argentine participation in international events.