Falklands recognizes outstanding contributions to the Islands' tourism development
Monday, May 14th 2012 - 18:43 UTC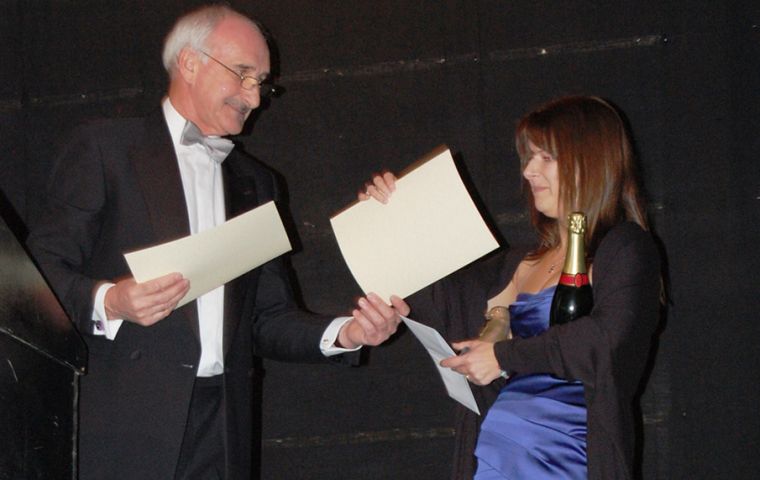 A gala ball was held on 12th May to highlight the achievements of the tourist industry in the Falkland Islands and to present awards for notable contributions to the development of tourism in the Islands.
The awards, motivated by Paul Trowell, the recently departed General Manager of the Tourist Board, covered a number of categories including accommodation, catering, guiding and customer service. This is the first time that awards for tourism activities have been presented reflecting the increasing importance of tourism to the economy of the Islands.
Mike Summers, the Legislative Assembly member with responsibility for Tourism, announced the awards and thanked all the sponsors for supporting the event. Awards were presented by Acting Governor Ric Nye for Tourist Guide of the Year, taken by Patrick Watts; Outstanding Customer Service Award, won by Sam Davis and The Falkland Islands Ambassador Award, won by Debbie Summers, which were all decided by public vote.
Bluff Cove Lagoons, not unexpectedly, were winners of The Best Visitor Attraction (Experience) of the Year Award; The Taste of the Falklands Awards was won by Malvina House Hotel, while Lafone House won The Best Catered Accommodation Award, all three awards being decided by a secret panel of judges.
Perhaps the most momentous award of the evening was for Outstanding Contribution to Tourism, which was won by Kay McCallum for her highly popular and well regarded Bed & Breakfast Accommodation.
Kay, who has been running her B&B since 1994 said afterwards: "I love doing my job and this makes me feel no different, but I am pleased that people voted." Arlette Betts, owner and manager of Lafone House who won an award for best catered accommodation said that the award was "most unexpected but she felt very privileged and honored" especially as the competition for the award was Malvina House Hotel, the only hotel in the Islands.
Arlette has been running her business since 2001 and started with catering dedicated business lunches but then branched into providing much sought-after catered accommodation. "I am just a self-taught cook", she said modestly, "a one-man band. I just didn't expect this."
In keeping with the celebration of local talents and tastes, guests at the gala ball then enjoyed dancing to music by local pop/rock band, The Pushers of Music, and a selection of old-time Falkland Islands dance tunes selected by Derek Howatt.
The Falkland Island Tourism Awards are expected to become a yearly event and will no doubt be an area that the newly appointed General Manager of Tourism, Tony Mason, will wish to build on when he takes up his new post on the 1st July this year.
by Janet Roberston - SeAledPR - Stanley