CFK highlights "magnificent opportunity" for Angola/Argentina trade
Friday, May 18th 2012 - 18:03 UTC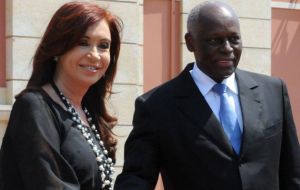 President Cristina Fernández highlighted the "magnificent opportunity" Argentina and Angola had in coming together on future business transactions, particularly in the face of the global financial crisis, while addressing a meeting with businessmen in Angloa where she is on a three day official visit.
Earlier in the day the Argentine leader attended a bilateral meeting with the President of Angola, José Eduardo Dos Santos, before speaking before the National Assembly at the Presidential Palace in Luanda.
Addressing the National Assembly, CFK insisted with the implementation of the Argentine growth and inclusion model: 'We can show the world that there's another way'.
The last appointment on her schedule will be a visit to the trade fair where 400 Argentine businessmen will exhibit their products, accompanied by the Agricultural Ministry and the ANMAT and INCAA, with the aim of attracting investments and generating sales.
The fair is a continuation of the trade mission held in March when Domestic Trade Secretary Guillermo Moreno visited. Moreno, this time accompanied by Foreign Trade Secretary Beatriz Paglieri, arrived on Thursday.
For the over 400 businessmen participating, "there will be 150 stands on show with products from all sectors of the economy," said Paglieri, adding that "there will also be spaces for those who did not rent a stand to present their business."
The President travelled to Angola accompanied by Foreign Minister Héctor Timerman, Industry Minister Débora Giorgi, Agricultural Minister Norberto Yahuar, governors Sergio Urribarri (Entre Ríos), José Luis Gioja (San Juan) and Jorge Alperovich (Tucumán), along with other politicians.