UK 'hunter-killer' nuclear-powered submarine en route to Falklands, says The Sun
Monday, May 21st 2012 - 01:03 UTC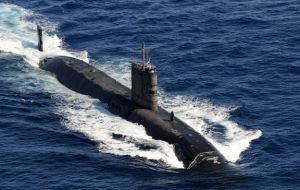 British nuke submarine HMS Talent was dispatched this week end to the Falkland Islands "with Tomahawk warheads" on what could be a warning signal to Argentina, according to UK sensationalist tabloid The Sun.
As tensions simmer on the 30th anniversary of the 1982 armed conflict between Argentina and the NATO, the Trafalgar-class "hunter-killer" vessel slipped into Simon's Town dock in Cape Town, South Africa last week under a cloak of secrecy.
According to the The Sun, UK Defence insiders confirmed the sub was ready for a lengthy deployment around the South Atlantic Archipelago.
Thus, the Talent will arrive in good time for June 14 — the anniversary of the day the British task force ended a 74-day Argentine occupation of the islands.
A source said: "Final preparations are being made in South Africa before a deployment to the South Atlantic. HMS Talent will be dropping by the Falklands and keeping watch. That's what she is built to do — protect Britain's interests. And that is what she will be doing this summer."
According to The Sun HMS Talent arrived in South Africa on Tuesday after quietly requesting a nuclear permit for a visit between May 10 and 30. She is expected to leave this week. Her presence in the South Atlantic will quell fears of "any misguided stunts by Argentina" on the June 14 anniversary underlined the sensationalist newspaper.
Since launching in 1988 HMS Talent has conducted operations worldwide in her principal role as a hunter-killer.
But she can be deployed in a surveillance role — and is fitted with cameras and thermal-imaging periscopes
The Sun belongs to the Murdoch group, News Corp which is in the dock for the extended practice of telephone hacking currently under parliamentary and criminal investigations.
Nuclear powered HMS Talent was launched in April 1988 and commissioned in May 1990. She was the last submarine to be launched down a slipway and is the third vessel of the Royal Navy to bear the name. Talent is scheduled to be decommissioned in 2019 and will be replaced by one of the new Astute class submarines.
She undertook a refit at her base port and in March 2007 rejoined the active fleet, following an upgrade. She has been given a new reactor core and has been equipped with a new sonar suite, Sonar 2076. Sonar 2076 has the power equivalent to approximately 400 PCs and can precisely track the movement of small objects from hundreds of miles away.
The principal role of the 'hunter-killer' is to attack ships and other submarines. In this capacity they could support and protect a convoy or taskforce. Additionally Talent can be used in a surveillance role as she is fitted with cameras and thermal imaging periscopes. Talent is also fitted with Tomahawk Land Attack Missiles (TLAM) which gives the boat a land attack role.