Argentina proposal to increase Mercosur common external tariff from 22% to 35%
Tuesday, May 22nd 2012 - 06:09 UTC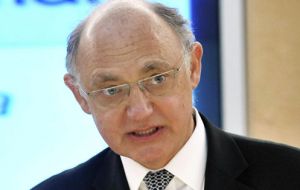 Argentina is planning to propose its fellow Mercosur members to increase the common external tariff, CET from the current 22% to 35%, when they meet at the next summit in Mendoza. Argentina currently holds the pro tempore chair of the group and at the coming summit the helm will be transferred to Brazil.
Last week during a bilateral meeting Argentine Foreign minister Hector Timerman advanced to his Brazilian peer Antonio Patriota, President Cristina Fernandez administration initiative to be presented next June 28 in Mendoza to the group's partners increasing the external tariff to the maximum allowed by the World Trade Organization.
The CET is the levy paid by third countries for goods entering any of the four members of Mercosur. The current 22% was established back in 1994 with the so called Ouro Preto accord when the main instruments of Mercosur commercial policy were established.
The idea of the Argentine government is that the tariff can only be below 35% in cases where there is an existing open trade understanding as happens with Chile, Venezuela, Colombia and Peru, according to reports in Buenos Aires Ambito Financiero.
From Brazil there have been no further comments regarding the initiative but for a mention in Folha de Sao Paulo saying the Foreign Affairs ministry is considering the proposal.
Uruguay and Paraguay have not been informed yet, but in Montevideo they are expecting the news any moment, and are already working on the issue according to government officials.
Foreign minister Luis Almagro said he was holding meetings with President Jose Mujica to address the issue and instructed the head of the Integration and Mercosur Desk Alvaro Ons to prepare a report on the consequences for Uruguay if such a decision becomes effective.
But Vice president and economist Danilo Astori was less cautious in his words and said that, from an economic theory point of view clearly such a proposal is not the course to follow. For Uruguay with a small market, an open economy is crucial and the policy has been to lower tariffs as much as possible.
However Deputy Economy minister Luis Porto said the issue will be addressed when it is officially presented. ""We have not received any proposal; it was informed to Brazil with the anticipation that it would be made known to Mercosur. So the issue has not bee presented, and as such it is not being addressed or considered", said Porto.