Falklands' remembrance service in Gosport to honor 3 Islanders and 255 killed in action
Monday, May 28th 2012 - 17:58 UTC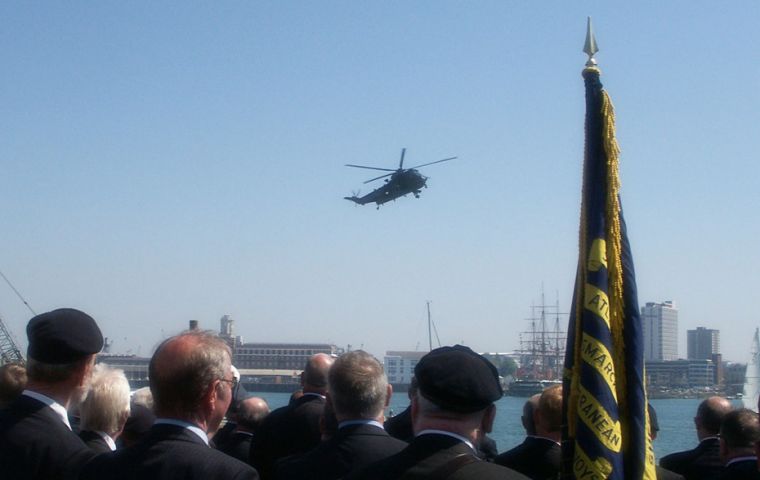 Veterans, next of kin, local authorities and special guests attended on Sunday a remembrance service for the 30th Anniversary of the Falklands conflict in Gosport, overlooking Portsmouth harbour.
With temperatures around 27 degrees, hundreds gathered in Gosport Falklands Gardens for the special event. Attended by some 250 Falklands veterans, next of kin of those who were killed, youth groups, civic dignitaries and military guests, the service was accompanied by music from the Royal Marines School of Music band. A Sea King helicopter provided the fly past.
In a very moving ceremony, local students read out the names of all those who made the supreme sacrifice, whilst three single yellow roses were laid to remember the Falkland Islanders who died and 255 single carnations to remember those killed in action were placed at the Falklands memorial stone by next of kin, students and invited guests.
The service was conducted by Reverend Andy Davis vicar of Holy Trinity Church with the address given by Reverend Godfrey Hilliard who served with 40 Commando during the conflict.
Following the service, the veterans marched down the High Street to applause from the many Gosport residents who had turned out to watch the event. A reception was then held for all the participants in two large marquees in Walpole Gardens.
Secretary of the UK Falkland Islands All Party Parliamentary Group, MP Andrew Rosindell, Caroline Dineage MP for Gosport and who visited the Falklands on the Armed Forces Parliamentary Scheme visit in 2011 together with the Chairman of the local branch of SAMA 82, Gary Clement and the Falkland Islands Government Representative in London, Sukey Cameron MBE, were present at the ceremony.
Gosport councillor Derek Kimber said it had been a "very moving" service. He said: "A lot of families were very unhappy when their sailors departed from the harbour - unfortunately there were some ships that didn't come back."
The Gosport Borough Council has a strong association with the Falklands Campaign of 1982 and has arranged ceremonies of commemoration in 1997, 2002, 2007 and now 2012.
The aptly named Falkland Gardens, with its Admiral Fieldhouse bust, mosaic designed by the Falklands Government and the Falklands Stone have become a place of pilgrimage over the years.