Chile tells Morales "it will not yield sovereignty over any piece of territory"
Tuesday, June 5th 2012 - 08:07 UTC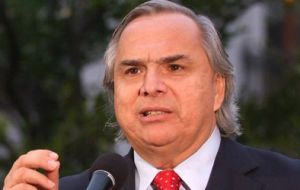 The Chilean Executive secretary general Andres Chadwick gave full support on Monday to Foreign Affairs minister Alfredo Moreno decision of not attending the Sunday session at the OAS General Assembly in Cochabamba where Bolivian president Evo Morales called for a sovereign sea outlet for his land-locked country.
"The government and the Foreign minister did the right thing of not attending because it was more an act with political intention characteristics than one with the intention of addressing international issues as demands and corresponds to an international organization such as OAS", said Chadwick in reference to the Organization of American States general assembly.
Chadwick added that the absence of the minister was not to an official OAS ceremony but rather to a preliminary act that had not the category of official, "therefore the decision and we believe it was a good decision by the Chilean Foreign Ministry in an act that did not have the necessary conditions or guarantees of an international assembly, but rather one with a political colour from the host and organizing country".
As to the Ecuadorean president Rafael Correa stance in support of Bolivia's maritime demand Chadwick said Chile is very clear: "we follow a State foreign policy regarding Bolivia's demand. We have no urgency, we have no need to precipitate because all along Chile's foreign policy has been one and permanent, and no matter the colour of the government it will remain and that is because Chile respects international treaties".
"Between Bolivia and Chile, between Chile and Bolivia there is an international limit' treaty, which determines borders and sovereignty and is absolutely valid from a legal and international perspective, therefore no urgency, no precipitation" insisted Chadwick.
Minister Moreno said on Monday that he trusts the OAS General Assembly will not yield to review the 1904 treaty between Chile and Bolivia following on President Morales' call of a sovereign access to the sea during a ceremony in Cochabamba.
The minister added that Morales request for a review of the 1904 treaty, as happened in 1979, has no options of support since Chile's stance is shared by most OAS country members.
Moreno who did not attend Sunday's opening speech from President Morales because it was not an official OAS ceremony said he wasn't interested in going through 'an uncomfortable moment' and insisted that Chile's position in based on the 1904 treaty which generates the rights over the claimed territories.
"He (President Morales) said wars do not generate rights, what generates rights are treaties. Not only do they generate rights, they generate stability, they generate peace and this is something which our continent has clearly learnt", underlined Moreno.
He added that Chile's position is so solid that President Morales has been trying several strategies to keep the maritime claim alive but does not have the necessary elements to support it.
"In March 2011 Morales announced he would demand Chile before an international court. A year has gone by and he still can't be precise on what basis he is going to demand us. I think the best way is abidance of international law above all, and then dialogue".
However he made Chile's position very clear as to dialogue terms: "I have pointed out in other occasions, since president Piñera has been in office, March 2010, in all meetings concepts have been very clear: we are willing to talk about the 1904 treaty but on the basis that Chile will not yield sovereignty over any piece of Chilean territory".