Middle class Argentines protest with pots and pans against corruption, crime, inflation and the dollar clamp
Saturday, June 9th 2012 - 05:13 UTC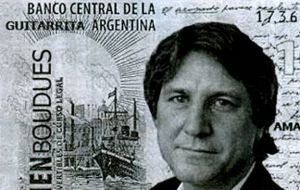 For the third night in ten days angry Argentines took to the streets of Buenos Aires and other major cities banging pots and pans to protest corruption, rampant crime and insecurity, inflation and the dollar clamp in the midst of an economy that is showing clear signals of exhaustion and growing questions on the current course of affairs.
Some protestors even marched into the iconic Plaza de Mayo next to Government House and others demonstrated with their pots and pans in front of the presidential residence in Olivos where Cristina Fernandez lives and usually works. Cars passing by expressed support by blowing their claxons.
Pot-banging protests are highly symbolic in Argentina, stirring memories of the street demonstrations staged by angry savers, housewives and students during a devastating economic and political crisis of 2001/02, and before that against the military dictatorship.
The protesters, who gathered in the downtown Plazo de Mayo square after receiving messages on social networks, complained about double-digit inflation, a virtual ban on purchases of foreign currency by savers, crime and corruption impersonated in the figure of Vice president Amado Boudou.
They distributed Peso bills with the face of Boudou, who is involved in a scandal to print 100 Pesos bills, and others with that of Senator and former cabinet chief Anibal Fernandez who every day preached on Argentines to learn to think, work and save with Pesos until it was revealed he has his savings in the greenbacks.
"I do what I want with my money, honestly earned. Whoever sells dollars is an idiot", were his angry comments when pressed by the media on the issue. He later apologized and was publicly and ironically reprimanded by President Cristina Fernandez.
The code word that circulated the whole day for the evening gatherings was "cace3rolazo" in reference to the pots and pans banging.
Less than a year since President Cristina Fernandez won an easy re-election with a record 54% of the vote, opinion polls have shown a clear decline in her approval ratings in recent months despite broad support for the re-nationalization of the country's biggest energy company, YPF.
She has dismissed anger over the restrictions on dollar purchases, saying only a few Argentines are affected and urging them to save in the local Peso currency instead.
"We're the 46%" and "Independent Justice", "No more dollar clamp" were some of the banners carried by the cheerful protestors who were dressed with hoods, berets, gloves, fur coats and carried Argentine flags, cameras and film equipment plus whistles and drums.
Most protests took place in middle-class neighbourhoods that are the most severe critics of her government's incapacity to contain inflation, crime and combat corruption, protest issues that are bound to increase as the economy slows down.
The last time so-called "cacerolazos" were staged against Cristina Fernandez's government was during a bitter conflict in 2008 that saw Buenos Aires residents take to the streets in sympathy for farmer protests against a tax increase on grains and oilseeds exports.